Parking ticket watchdog call from Blaenau Gwent MP Nick Smith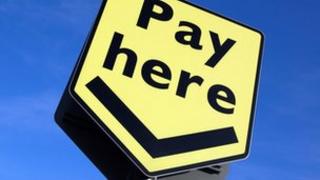 A MP has called for a new official body to regulate private car parking companies.
Blaenau Gwent MP Nick Smith says it follows a jump in requests for the DVLA to hand over motorists' information so private parking fines can be issued.
The MP said DVLA requests had leapt from 270,000 to more than a million over the last four years.
The parking trade body said it is to oversee a new fine appeals system, including independent adjudication.
Mr Smith will meet the UK transport minister next month about the issue.
"I want robust regulation of private car park companies as I feel there's a consensus that motorists aren't getting a fair deal," stated Mr Smith.
"People want peace of mind when they park their car and pay the right fee. They shouldn't need to worry about hefty penalty charges or information about them or their vehicle falling into the wrong hands."
Under current rules, private car parking companies can apply to the DVLA for information about vehicles that have used their sites and may be in breach of their rules, for example, by staying too long or not paying the correct fee.
Details provided by the DVLA include the name and address of the owner, and often a parking charge notice follows in the post.
According to the Blaenau Gwent MP, figures he has obtained from the DVLA show that between 2006-2007 the DVLA received 272,215 requests for driver information from car park firms.
By 2010-2011, that figure has soared to 1,167,713 requests for driver details.
"Over a million data requests means over a million parking charge notices issued," warned Mr Smith.
Unlike council car parks and public street parking, private parking in shopping centres and supermarkets is not covered by any primary laws.
It means the landowner can set their own parking rules, and the penalties to impose if someone breaches them.
Industry watchdog
As long as those terms are properly advertised with signs, anyone parking on that site has in effect entered a binding contract to abide by the rules.
Much of the industry is currently self-regulated by the British Parking Association (BPA), which enforces its own code of conduct on members.
But the Blaenau Gwent MP has argued that the BPA is a trade body, run for and by the car park companies.
"The government puts its faith in the British Parking Association but it's not delivering for the consumer," claimed Mr Smith.
"I want to see an OfPark type regulatory body to put the consumer interest first.
"It should be paid for by the industry and it could oversee an independent appeals service."
Mr Smith said he would continue to press for a parliamentary debate on the issue, and intends meeting the UK transport minister Norman Baker next month.
The BPA is to oversee a new appeals system, which it says will work in a similar way to how the public can appeal against parking tickets issued by local councils.
It has been asked for further comment but a BPA spokesman told the BBC Wales in February: "In simple terms, if you get a parking ticket and you're not happy with it you will write to the person who's issued it to you, just as you would to the local authority, they will consider your case and either cancel your ticket or ask you to pay it.
"If they ask you to pay it then they will tell you to whom you can go to have your case independently considered."
The spokesman said it was a free service, the case was heard by the independent adjudicator, and their decision was final.