Titanic: Family remembers passenger Denzil Jarvis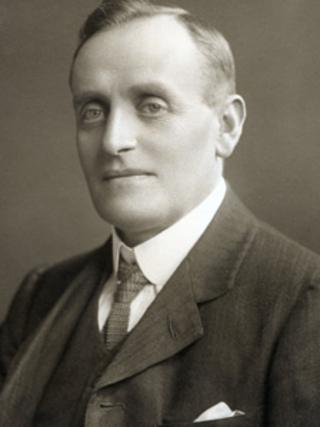 Descendants of one of the victims of the Titanic will be paying their own tribute at his memorial to mark the centenary of the death of the 1,500 passengers and crew.
The body of Denzil Jarvis, 47, who was born at Caerleon near Newport, was never recovered.
Denzil was an engineer, with family links going back to Hay-on-Wye in Powys. He had followed his father into the carpentry business after the family moved to the Midlands.
Denzil became a managing partner in a Leicester engineering firm, which was looking to diversify, with an interest in the growing automobile industry.
He had sailed twice to America on business trips and was on board Titanic with a new carburettor patent, with an appointment to meet Henry Ford during a six week trip.
His great-grandson Andy Jarvis has been piecing together Denzil's story.
Travelling on a £13 ticket in second class, Denzil was in a smokers' lounge at the time the iceberg hit.
Responding to a question from a fellow passenger, who survived, about the iceberg, he is quoted as saying: ''Well I am accustomed to estimating distance and I put it at between 80 and 90 feet.''
He left a widow Margaret and two sons, Denzil junior and Wellesley.
The family lived in some style in a house, which is now a hotel. But the Titanic Relief Fund awarded his parents a pension of seven shillings a week, as they were dependents of Denzil.
Margaret erected a memorial in a Leicester churchyard to her husband, but sadly within five years she had lost Wellesley at the battle of Paschendale in World War I. His name was added to the memorial.
She later married a local boot manufacturer and became mayoress of Leicester.
"We believe that the loss of Denzil followed by Wellesley within a few years had a devastating effect on Margaret and probably caused the premature end of her life in 1934," says Andy.
"My grandfather [Denzil Jr] never said much at all to my father about his early life or parents, where they lived or anything.
"As a child I was just aware of the Titanic link after we did a project at school when I was about seven or eight and Dad told me."
Andy says he will be spending time with his parents, who live in north Wales.
"As a family we will be together as much as we can between the 11 and 15 April remembering Denzil.
"On 15 April, my wife, daughter and I will be going to to do something I have done every year for the last 10 years - clean the memorial up and leave some flowers."