Archbishop of Wales Dr Barry Morgan's call to stop injustice in Easter message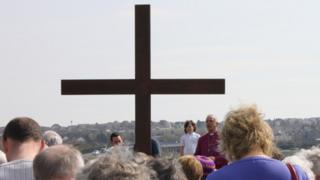 The Archbishop of Wales has used his Easter message to urge people to live life with love and compassion and speak out against injustice and deprivation.
Dr Barry Morgan said the resurrection of Jesus meant God approved of his way of life.
He said: "No matter how far people had fallen into darkness, Jesus invited them to fellowship."
Meanwhile, the Union of Welsh Independents said Christians should appreciate their freedoms at Easter.
Dr Morgan said the fact that God resurrected Jesus rather than King Herod or Pontius Pilate sent a clear message about the values he ratifies.
"The resurrection is, if you like, God's 'yes' to Jesus' way of life," he said.
"Had God raised either Herod or Pilate, it would have been ratification of human monstrosity.
"The fact that he raised Jesus ratified, and ratifies, the values of Jesus, the values of forgiveness and mercy, of compassion of joy and service."
He went on: "No matter how far people had fallen into darkness, Jesus invited them to fellowship.
"No-one, no matter how badly they have behaved is beyond the reaches of his love.
"Jesus is the guarantee that love is stronger than death and that the God who made the world has not abandoned it, but taken on its pain and shame and broken through to a new creation."
He added: "We have to be concerned about, and do something about issues of hunger, war, violence and deprivation - things that mar God's image and disfigure his world."
The archbishop's message came after he led a two-mile (3.2km) "walk of witness" through the streets of Barry on Good Friday with people from different churches in the Vale of Glamorgan town.
He carried a 10ft wooden cross and stopped at six points or "stations of the cross".
'Spy on e-mails'
Elsewhere, in his Easter message, the Reverend Ronald Williams, vice-president of the Union of Welsh Independents, said people should strive to protect their freedoms.
He spoke out about the UK government's plans to monitor the calls, emails, texts and website visits of everyone in the UK under new legislation set to be announced soon.
The Home Office said the move is key to tackling crime and terrorism.
But Mr Williams said the Union of Welsh Independents opposed any government intervention in the right to "religious and political freedom of expression".
"Allowing the government and other agencies to spy on all e-mails would constitute such intervention and be a dangerous development," he said.
"Jesus Christ himself was executed because of what he said and preached.
"But God's freedom overcame state capital punishment and even death itself.
"This Easter, let us appreciate our freedom as Christians and citizens, and do everything in our power to protect it."
The Union of Welsh Independents is one of Wales' leading Christian denominations with tens of thousands of members, young people and children, meeting in some 450 chapels.