University drop-out rises: Economy a factor, says Higher Education Wales chair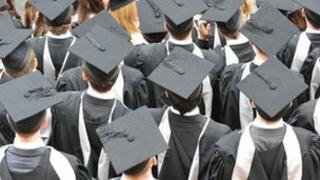 The number of students dropping out of universities has gone up, with one vice-chancellor blaming the economic downturn.
Latest Higher Education Statistics Agency (Hesa) figures show drop-outs in Wales rose in 2009-10 to 9% from 7.4%.
A total of 2,025 students did not return, up from 1,530 the year before.
Prof John Hughes, Higher Education Wales chair and Bangor University vice-chancellor, said financial problems may be hampering some students.
However, he said Wales was not the worst performing of the home nations for drop-out rates and that "never before has there been so much support for students in Wales".
He believed that while there were many factors leading students to leave university early, the economic downturn was a probable reason for an increase.
"The current economic climate I would think is a factor across the UK," said Prof Hughes, who represents the interests of universities in Wales as part of his role with Higher Education Wales (HEW).
"A lot of students struggle financially and if their parents are in financial difficulties it can lead to them dropping out.
"Drop-outs are always at the top of our agenda and something everyone looks at with a great deal of concern.
"Wales are doing pretty good compared to the other home nations, but that's not to say we're complacent."
He said Bangor University was investing in more staff and buildings to improve students' experiences.
Personal situations
Hesa reported the number of full-time first degree entrants in Wales as 20,720 in 2008-09, with 7.4% failing to complete their studies.
In 2009-10, the entrants rose to 22,450 and the drop-out rate was 9%.
Luke Young, president of NUS Wales, said he was not surprised by the figures but was disappointed they were rising.
He believes many drop out after deciding their course, or university altogether, was not for them.
"Universities say a lot about catering for students' needs from day one but if the numbers are rising and more are dropping out of education, there are issues that are not being dealt with," he said.
"Who are the students dropping out? What are their personal situations and how are the institutions dealing with it?"
'Generous grants'
The Welsh government said that in 2012-13, Welsh students from poorer backgrounds will have access to the "most generous" maintenance grant in the UK to help support them throughout their studies.
"Any university that wants to charge higher tuition fees must have a fee plan in place, approved by Higher Education Funding Council for Wales (Hefcw), which sets out the actions they will take and investment they'll make to promote wider access to higher education," a spokesperson said.
"In particular, Hefcw will pay particular attention to ensuring that institutions in Wales prioritise recruitment from Communities First areas, improve access for groups under-represented in higher education, and prioritise student learning, retention and success."
Huw Morris, academic registrar at Swansea University, said that at 5.9% its drop-out rate is "significantly below" the Welsh average.
"This reflects the effectiveness of the support we currently provide to our students," he added.
"To try and reduce the drop-out rate still further, we are currently reviewing the role of personal tutors, to enhance the support we offer to students."