Wales 'Proper Holiday' campaign hailed as Olympics loom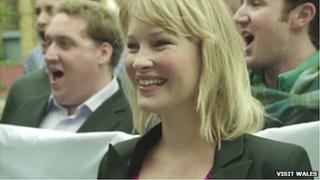 Tourism leaders say they are "blown away" by the response to a £1m Visit Wales promotion campaign with Gavin and Stacey star Joanna Page.
It featured a London man treated as "a VIP guest of Wales" and given a range of "weird and wonderful" things to do.
The Proper Holiday campaign has won a gold award from the travel marketing industry.
It comes amid claims the 2012 Olympics will benefit Wales' tourism more as a legacy than it will just this summer.
Visit Wales director Jonathan Jones said: "In the summer of 2011 we went on an important quest - to find an ordinary guy stuck in a holiday rut and to bring him to Wales.
"That ordinary guy was Piers Bramhall. We turned up on his London doorstep and with the help of a Welsh male voice choir led by Gavin and Stacey actress Joanna Page, he accepted our invitation to try a different kind of holiday - a proper one.
"Four weeks later, accompanied by a support crew filming, Facebooking and tweeting throughout, his journey began.
"As a VIP guest of Wales, Piers traversed a wiggly line through the heart of Wales and did all sorts of weird and wonderful things: whisky tasting, surfing lessons, mountain biking, playing golf on the 2010 Ryder Cup course and camping in a bell tent to name but a few.
"We've been blown away by the public's response to this campaign and are delighted that the judges of this prestigious award also loved this campaign."
Other competitors in the category were Royal Caribbean International Cruises, the Star Alliance airline network which includes airlines United, SAS, Air New Zealand and Lufthansa and Visit Manchester.
'Massive legacy value'
Meanwhile, tourism leaders say the UK's world-wide promotion as an Olympics and Paralymics destination is set to have no major impact - positive or negative - on people's plans to holiday in Wales this summer.
However, hoteliers in Cardiff say the Games will have a "major positive effect" on their bookings in the summer when athletics teams use the city as a base.
A £25m advertising campaign in 14 cities around the world aims to capitalise on the publicity surrounding the Olympics to show that there is more to Britain than the Games.
Wales Tourism Alliance chairman Chris Osborne, whose 30 organisations represent more than 7,000 tourism businesses, said Wales can expect to share in the "massive legacy value" the Olympics will provide the UK.
"I think we're going to make more out of not being involved in the Olympics.
Royal couple
"We have got the Olympics - the football at the Millennium Stadium, the training camps, there are bits of spin-off.
"The UK as a whole, including Wales, will have spin-off from the London Games in future years but not directly as a result of people coming to the UK for the Olympics. The longer term will be more critical."
At the same time, tourist boards across the UK are running a Holidays at Home campaign to persuade people to take a "staycation".
Harry Potter star Rupert Grint is among the celebrities in TV adverts which include a reference to the Duke and Duchess of Cambridge living on Anglesey, where Prince William is based as a rescue helicopter pilot.
North Wales Tourism chair Chris Jackson, who runs the Welsh Mountain Zoo at Colwyn Bay, said it was too early for the campaign to have had an impact.
He said: "I'm delighted that we've got a royal couple living in the region. It all adds up to underpin the quality of north Wales.
"It will be just one of those factors that will make people think about visiting north Wales.
"I don't think we will see the benefit of this until the summer holidays. I don't think it's had any impact at Easter."
Mr Jackson said the 1,200 members of North Wales Tourism will have had mixed benefits from the Easter weekend, with indoor attractions faring better.