Cuts Watch Cymru urge crisis loans to be more accessible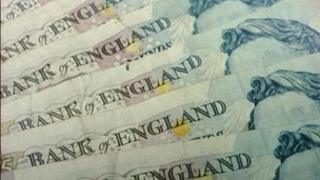 Charities have asked the Welsh government to deliver "fair and transparent" access to crisis loans to those on low income.
Cuts Watch Cymru (CWC), a group of 17 charities, has called for changes to access to crisis loans when powers are devolved to Wales in April 2013.
Crisis loans are interest free and available to those in emergency need of money.
The Welsh government said it would "help those most in need."
Crisis loans are currently accessed through Job Centre Plus. From 2013, the Welsh government will take control of the system in Wales but it is yet to decide on how loans will be accessed.
It has issued a consultation document on changes to the social fund and stressed it wants clear access to crisis loans across Wales.
Demand for crisis loans has increased by 38% since 2007 and is expected to increase again due to economic pressures, according to CWC.
The network of charities says its research shows the service can be improved.
CWC wants loan applications to be treated on a case by case basis.
They have asked the Welsh government to offer financial advice to those in receipt of loans.
Currently, an individual can apply for only three loans per year - but CWC has urged the Welsh government to impose a monetary sum as a limit instead when it takes over responsibility for the loans.
Stephen Doughty, co-chair of Cuts Watch Cymru urged the Welsh government to introduce a "fairer and more transparent system".
Loan amount
In 2009/10, crisis loans in Wales totalled £4.3m with an average loan being £58.
The Welsh government estimates £9.8m of funding will be passed on from the UK government and made available to those eligible to apply for help.
Topping up the amount available is an option open to the Welsh government which hopes to use the loans to address emergency or life threatening situations.
A Welsh Government spokesperson said: "We are committed to do all we can to mitigate the impact of the UK government's benefit changes on Wales.
"The devolution of the funding will allow us to ensure the funds are directed towards those who are most in need. We are currently considering the responses to our consultation on the options for providing these loans in Wales and will take into account the report from Cuts Watch Cymru."