Welsh homeowners 'more likely' to be in arrears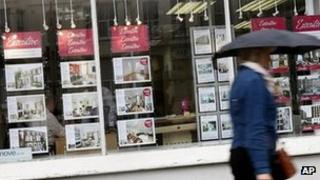 Welsh homeowners are more likely to be in arrears with their mortgages now than they were a year ago, a study by a credit rating agency has found.
Standard and Poor's figures show borrowers in Wales and the north of England are struggling more than those in the south of England to repay.
The agency said rising negative equity means the problem could worsen in the future.
The Welsh government said the research highlighted problems facing homeowners.
In January, the Land Registry said house prices in England and Wales fell by 1.3% last year, to an average of £160,000.
Mark Boyce, the co-author of Standard and Poor's report, said falling prices had an effect on the ability of some people to pay their mortgages.
He said: "If we look at arrears in particular, those have increased by about 15% in Wales and the proportion of borrowers in negative equity, which means they owe more on their mortgage than the property's worth, has increased by more than a third between the second quarter of 2010 and the end of 2011.
"Those figures are somewhat higher than the UK's average and also then for the south of the UK.
"These trends in arrears and negative equity broadly follow, in our view, trends in unemployment and house prices. Unemployment in Wales is about 9%, compared the the UK's average of 8.4%.
"And also house prices in Wales are also relatively weaker than, for instance, the south of the UK, so those would have fed through into causing certain borrowers to struggle more with payments and also hitting their mortgage equity positions."
The Welsh government said its mortgage rescue scheme provided £36.5m to assist homeowners who ran into financial problems.
Between 2008-11 the scheme assisted 391 households from becoming homeless.
A Welsh government spokesperson said: "This research vividly highlights the problems facing home owners across the UK.
"While we cannot shield people in Wales entirely from the effects of the recession and cuts to welfare benefits, we and others, including local authorities, are doing what we can to help them to cope with the harsh conditions that now exist."