Whooping cough cases in Wales up to 67 in 2011, says Health Protection Agency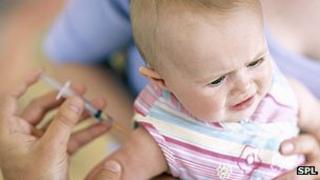 The number of cases of whooping cough in Wales rose last year to 67, up from 13 in 2010, figures show.
The Health Protection Agency (HPA) urges anyone infected to get immediate treatment to stop it spreading, especially to babies.
Symptoms include severe coughing fits which, in babies and children, are accompanied by a "whoop" sound.
The number of cases seen rises every few years, and GPs have been asked to stress the importance of vaccination.
Three babies have died from whooping-cough complications in England and Wales this year.
In England and Wales as a whole, 665 cases were confirmed between January and March this year, compared with 1,040 in the whole of 2011. The Welsh total for that period was 16.
In Northern Ireland there were 27 confirmed cases by the end of March, while there were 13 last year.
Every year there are deaths from the infection in young babies, with seven in 2008, two in 2009 and one in 2010.
"Whooping cough can be a very unpleasant infection. Anyone showing signs and symptoms should visit their GP," Dr Mary Ramsay, the HPA's head of immunisation, added.
"The HPA has written to GPs to remind them of the signs and symptoms of this infection and stress the importance of vaccination. The agency is also encouraging GPs to report cases quickly and to make them aware of the HPA's guidance to help reduce the spread of the infection."
Whooping cough is included in the five-in-one jab given to babies at two, three and four months of age with a booster given before they start school.
It can be treated with a course of antibiotics but very young children may need to be admitted to hospital due to the risk of severe complications.
In England and Wales, GPs handle an estimated 35,000 consultations for whooping cough and it is responsible for more than nine deaths a year.