Cryptosporidium outbreak hits Torfaen community farm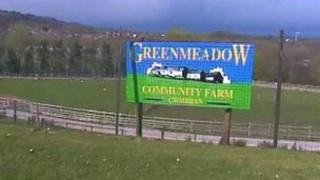 Health officials are investigating an outbreak of the cryptosporidium bug at a community farm in Cwmbran, Torfaen.
Four people have so far tested positive for the parasite at the Greenmeadow farm, and a further possible 13 cases have been identified.
All those who have been unwell - one adult and three teenagers - had been bottle-feeding lambs and goats.
The bug can lead to sickness and diarrhoea, but is rarely a serious condition for healthy people.
Public Health Wales (PHW) said all those identified as at risk from the infection were staff or volunteers, and there has been no reported cases of illness among visitors or the general public.
The outbreak was first identified at the farm on 5 April.
GPs informed
"Cryptosporidium is a disease that is very common in young farm animals and can easily be passed to people who come into contact with those animals," said Dr Lika Nehaul, from PHW.
"It causes watery diarrhoea, stomach pain, nausea and vomiting, and can last for up to a month. Healthy people will usually make a full recovery."
PHW said the farm's director instigated and is co-operating with the ongoing investigation.
Those animals affected have also been removed from the farm as a precaution.
Health officials also said there was no reason for anyone to avoid visiting petting farms, such as Greenmeadow, as long as careful hygiene precautions are taken.
"Hand washing after coming into contact with farm animals is of the utmost importance in preventing infection with cryptosporidium," said Dr Nehaul.
Local GPs are also being alerted about the outbreak.
Anyone who is unwell with gastrointestinal symptoms is advised to contact their GP or NHS Direct on 0845 4647.