Steel giant Tata announces £800m Welsh investment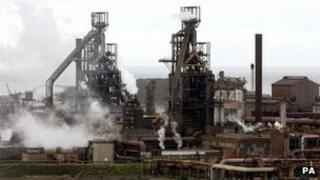 The Indian steel giant Tata is to spend £800 million at its Welsh plants over the next five years, it has been announced.
First Minister Carwyn Jones revealed the scale of investment after meeting senior officials at the company during his visit to India last week.
The firm employs 7,500 people in Wales.
Tata said it was committed to investments of £240m on projects but it could not be more specific about further investment at this stage.
The company said the investment had not been announced before and was an "expression of intention and vision for Port Talbot and the steel industry in Wales".
The company later said in the "near term" £185m would be spent on rebuilding the Number Four blast furnace at Port Talbot, work on which is scheduled to start in June.
"This is in itself a substantial vote of confidence in Welsh steelmaking," said the company in a statement.
"A blast furnace is normally relined every 10, 15 or 20 years and a complete rebuild, which is an even bigger project than a reline, is an investment with a similarly long-term horizon."
The statement adds: "Other near-term investment projects take the investment committed at Port Talbot to almost £250m.
"At this stage it is not possible for us to be more specific about any further investment projects before the details have been finalised and approved."
Mr Jones met the vice chairman of Tata Steel B Muthuraman, in Mumbai, as part of the Welsh government's trade mission.
They discussed the company's forward investment strategy for Wales as well as the Welsh government's continuing partnership with Tata, which has plants across Wales, including Port Talbot and Shotton.
Investment of £240m has already been announced for Port Talbot steel works, with £185m going on a new blast furnace and £53m spent upgrading the steel-making shop.
Mr Jones said the announcement would safeguard thousands of jobs and would create many in the future.
He said the money would be spent on upgrading and to ensure Port Talbot was competitive.
He said: "Tata have announced investment of £800m over the next five years in Wales. It's a tremendous vote of confidence in Wales.
"Not long ago there were some people who were predicting a very difficult time ahead for Port Talbot, particularly, but it's good to know that Tata sees Wales as a good place to invest, that the steel industry in Wales has a secure future."
Mr Jones said it was the culmination of a lot of hard work and meetings that had taken place between the Welsh government and the steel giant.
He told BBC Radio Wales the money would be spent on "various things".
"At the heart of it all is the need to make sure that Port Talbot is competitive in the future, and that it's able to expand its product range," he added.
"What we were told at the meeting was that £800m has been approved over the next five years.
"They weren't able to give us the full detail of how every penny would be spent. They gave us some idea, relining of more than one blast furnace, looking at ensuring that the money was used to make the plant more competitive.
"Now, as regards the detail I'm sure that will come out in time."
A Tata spokesman said: "The first minister went to meet Tata's management to discuss the future of steel industry in Wales."
He added that the first minister heard that Tata would be continuing its commitment to the Welsh steel industry, and "this was Tata's intention for the future".
Conservative enterprise spokesman Nick Ramsay AM said it was a welcome boost and reaffirmed steelmaking as one of Wales' flagship industries.
"We look forward to the company sharing further details of their investment programme and how this will help support steelmaking in Port Talbot and the wider Welsh economy," he added.
Robert Edwards, of the trade union Community, which represents some of the Tata workers in Wales, said: "You have to put it into context of what's happened in the last decade or so, when you've had closures of the heavy end at Llanwern, you've had the closure of Panteg, Ebbw Vale, but that's the past.
"We've got Tata who've come in (and) invested every year since they've owned the company, so fantastic news.
'Guaranteed'
"But speculating going forward, we could see a new coal mine opening in Part Talbot.
"There is a coal seam that runs in the area. If that was to come off it would be a huge investment.
"Speculation is that that would be about £300m, so therefore there would be guaranteed, probably, 20 or 30 years of steel-making in Port Talbot."
Carwyn Jones's trade mission to India discussed the possibility of steel giant Tata mining south Wales coal.
He led a delegation of business people and academics on a three-day trade mission last Wednesday.
Tata is examining whether it can mine coal near its Port Talbot steel plant.
The Indian-owned company says the project would create up to 500 jobs. The coal would be turned into coke and used in the steel production.