South Wales Chamber of Commerce plea over export trade help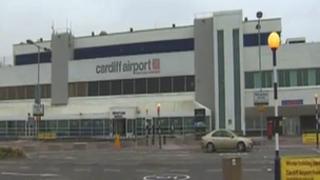 Business leaders want more investment in Cardiff Airport and help for south Wales firms to boost export trade.
South Wales Chamber of Commerce has published a document it calls a manifesto for growth, with improvements in international trade a key aim.
It says exports rose 31.4% in 12 months to June 2011 to £13.05bn as firms looked "outside Wales to survive".
The airport owners say they want to work with the Welsh government to create further opportunities.
The Welsh government said it will look at the document with interest.
The chamber - which includes members in Cardiff, Newport and Swansea - says Welsh exporters should be supported to expand into new markets through the creation of an international centre of excellence.
This would see the Welsh government and international business support agencies working together to share information to benefit businesses looking to the international market.
It also wants more overseas trade missions and one-stop business advice centres set up in key areas.
Chamber managing director David Russ said figures showed exports from Wales rose 31.4% over the 12 months to June 2011 to £13.05bn.
This compared to a rise of 6.6% in Scotland, 14.9% in England and 11.4% in Northern Ireland.
"The export market is of great importance to the Welsh economy," he said.
'More ambitious'
"Owing to the impact of today's tough economic climate, Welsh businesses find themselves in a situation where they need to target markets outside Wales to survive.
"They need to internationalise to maximise their competitive advantage."
Other recommendations include:
The development of the M4 relief road around Newport
Lobbying for a improvements of the rail system as part of a local electrified network
A "more ambitious" broadband target across Wales of 50mbps by 2015 instead of the existing target of 30mbps.
The chamber is also calling for the Welsh government to do what it can to help bring in new routes through Cardiff Airport to trade markets in north America and the Middle East, as well as urging for more infrastructure investment at the airport.
Earlier this month, First Minister Carwyn Jones announced he is to head a task force to look at Cardiff's airport's "weaknesses".
He has criticised the Rhoose site's owners and said he would not want to welcome visitors to Wales through Cardiff Airport because it gives a bad impression of the country.
Cardiff Airport, which is owned by Spanish company Abertis, has said it has an annual capital plan and has made continuous investments since 2005.
A spokesperson said: "A top priority is to develop a range of hub opportunities particularly New York and a Middle Eastern hub such as Dubai.
"This would open up further connections with other destinations worldwide. Germany is another important market for Wales.
"These routes are selected because they offer clear opportunities for regional economic development and policies, and will therefore be more sustainable, leading to stable airline operations through Cardiff Airport."
The airport said the ways it could work with the Welsh government to attract airlines to operate such routes have been outlined in evidence submitted to the assembly enterprise and business committee's inquiry into airports and ports .