Travel challenge marks Disability Wales' 40th anniversary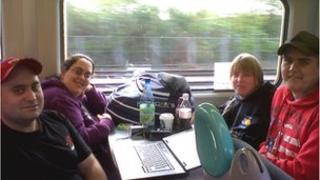 Four young disabled people have started a journey on public transport to mark 40 years of the Disability Wales charity.
The group, which set off from Haverfordwest, hopes to highlight problems faced on buses and trains.
They will visit Wrexham, Bangor, Porthmadog, Machynlleth, Aberystwyth and Carmarthen over four days.
Network Rail said the industry was keen for more improvements to make travel more convenient for disabled users.
Last month, Baroness Grey-Thompson called for better public transport services for disabled people after she had to crawl off a train in London.
The four people from Pembrokeshire, aged between 18 and 20, have learning difficulties and one is a wheelchair user.
They left Haverfordwest station, with two support workers, at about 09:00 BST.
The project is one of several activities planned to celebrate the charity's achievements over 40 years.
Miranda French of Disability Wales said: "They're going to be making about six stop-offs along the way across the country, heading north and then back down on Friday for a celebratory event in the afternoon, where they will share their experiences of the journeys they've had.
"For many disabled people transport is a major issue and that is finding accessible transport that meets their impairment requirements."
Last month, Baroness Grey-Thompson called for better public transport services for disabled people after revealing she had to crawl off a train in London.
The Paralympian gold medallist, a regular commuter from north-east England, said she was left stranded at King's Cross station at midnight.
The baroness, who was born with spina bifida, said she had requested assistance in advance but none arrived.
Train operator East Coast apologised, citing factors outside its control.
Ms French added: "Unfortunately her case isn't isolated.
"There is a service where people can book assistance in advance, but often, not always, it doesn't work.
"It can become a very undignified and humiliating experience for lots of people."
She said there had been a vast amount of investment to improve railways stations, and many positive developments had taken place over the years.
"There is work going on, but we need to go much further with this," Ms French added.
Arriva Trains and Buses is one of the sponsors of the young people's project, called the All Aboard Transport Challenge.
Arriva commercial director Mike Bagshaw said: "By carrying out journeys between Haverford West, Bangor, Porthmadoc, Aberystwyth and Carmarthen, we hope that the group and Disability Wales will provide us with a better understanding of the experience of disabled people using public transport in Wales.
"We are proud of the work we have already delivered and continually look at new ways in which we can improve access to our network."
Network Rail said it was working with the Welsh government and Arriva Trains Wales (ATW) to improve access for disabled people at railway stations.
It said Prestatyn, Wrexham, Bridgend and Severn Tunnel Junction were among the stations set to benefit or have benefited from various schemes, including the national access for all programme.
A spokeswoman added: "The rail industry remains keen to see further improvements in making rail travel even more convenient for disabled users and will continue to work hard with the support from government to help us achieve that."