Church in Wales governing body discusses women bishops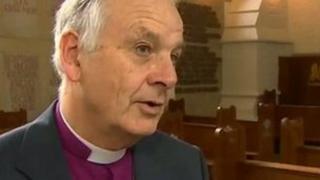 The ordination of women priests as bishops is being discussed at a meeting of the Church in Wales's governing body later.
The event takes place at Venue Cymru in Llandudno following an address from the Archbishop of Wales, Dr Barry Morgan.
It will be the first time the issue has been discussed by members since 2008 when they narrowly voted against a bill to allow women bishops.
Welsh language ministry is also on the agenda at the two-day meeting.
The controversial bill to allow women priests to become bishops was defeated by three votes at the 140-member body meeting in Lampeter four years ago, despite being backed by the Archbishop of Wales.
At the latest meeting , members will be divided into groups to consider a consultation paper produced by the bishops outlining options for a future bill.
'Unanimous'
They will then complete a questionnaire anonymously to show their preferences.
"We have had women priests here in Wales for decades and it's crackers to have a theology which says only some of our priests are eligible to be considered bishops," Canon Jenny Wigley, rector of Radyr, near Cardiff, told BBC Radio Wales.
Reverend Alan Rabjohns, chairman of Forward in Faith Wales, believes the ordination of women bishops is not consistent with scripture or tradition.
"And, also, I don't think the Church in Wales, which is a very small part of the Anglican Communion which is a very small part of the wider Catholic Church throughout the world has the right or authority to make that change," he said.
The results from the debate will be reported to the bishops in June who will then decide how to take the matter forward.
The governing body usually meets twice a year and is responsible for decisions that "affect the church's faith, order and worship".
A consultation paper drawn up by the Bench of Bishops, which includes the six diocesan bishops and clergy representatives, says: "They are unanimous in their support of this development within the life of the churches."