London 2012: £9m boost for Welsh community sport ahead of Olympics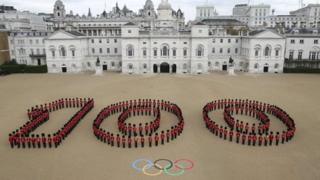 Community sport in Wales is to receive a £9m cash windfall it has been announced, 100 days before the London 2012 Olympics.
The money is part of a three-year strategy unveiled by the Welsh government and Sport Wales, with the cash coming from lottery funding.
Sport Wales said it would be targeting young people and thriving sports clubs.
It comes as 64% of people questioned in a BBC poll thought the Olympics cost the taxpayer too much.
Launching the community strategy, the Sport Wales chair, Prof Laura McAllister said: "The Community Sport Strategy sets out clear priorities to enable a dramatic shift in the range and number of people involved in local sport.
"It's about developing much wider offers, both formal and recreational, which are capable of appealing to a greater variety of children, young people and adults."
The body, which advises the Welsh government and is responsible for distributing lottery cash to sport in Wales, said it would also be refocusing where it targets the new money.
It said it would be looking for partners who "have ambition to deliver more opportunities for more children and young people" and "sports clubs that are thriving hubs of activity".
Sport Wales said it also wanted to see the number of coaches and volunteers in Wales double to about 250,000 by 2016.
Sports minister Huw Lewis added: "Every young person should have the chance to shine and be given an opportunity to contribute positively to their community, irrespective of their circumstances.
"Sport can play an important role in helping young people and families to deal with and overcome difficult situations and to strive for a better future."
Cardiff's Olympic first
The strategy for sport comes as the UK marks the 100-day milestone to the London 2012 Olympic Games.
But while the official opening ceremony takes place on 27 July, the very first event opening the games takes place in Cardiff two days before, when the Millennium Stadium will host women's football.
Teams from at least 19 countries and involving around 1,000 athletes and support staff are also expected to train in Wales at pre-game camps ahead of London.
Those have included members of the Team GB cyclists who have been making use of Newport's velodrome.
"First and foremost it is a community facility, as you see today, but it lends itself to becoming an Olympic and Paralympic venue because the quality of the facility was invested in," said Steve Ward, sport and leisure manager for Newport council.
"Legacy starts with future planning, and to be fair to Sport Wales, when they helped us with lottery funding to build these facilities in 2003, they have then helped preparations for 2004, 2008, and now we've got Team GB and other countries coming in 2012 - so the legacy is there already."
But a poll commissioned for BBC 5 Live suggested that the majority of people living in the UK felt the taxpayer has been too heavily burdened with the cost of the games.
Of the 2007 people quizzed for the poll, 77% in Wales and south-west England felt that the Games will not benefit the area.
However, overall, 55% of those questioned also felt that despite the costs of the Olympics, it will prove good value in terms of benefit for the UK.