National Secular Society: Charity should pay for NHS religious and spiritual care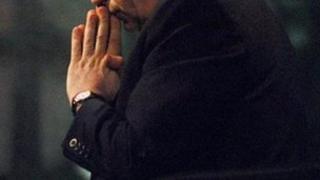 The NHS spends £1.3m a year on religious and spiritual care in Welsh hospitals, figures obtained by the National Secular Society (NSS) show.
The society, which believes religion should be separate from the state, believes instead it could be funded through a charitable trust.
But one health expert says while £1.3m is significant, it is relatively small in a Welsh NHS budget of over £6bn.
The Welsh government said it regarded such care as a "good investment".
The religious care provided in hospitals ranges from multi-faith rooms to parents seeking the christening of a seriously ill child, and nurses or doctors seeking someone impartial to talk to.
Alan Rogers of the NSS said: "There are many examples of staff being employed by the NHS, but funded by grants from charitable trusts.
"I believe that the charitable trust we propose should be ecumenical.
"People from all religions in Wales come together to support their adherence when they are in hospital.
"I think if anything they could raise more money than the current spend and provide a more comprehensive service."
Marcus Longley, director of the Welsh Institute of Health and Social Care at the University of Glamorgan, said the NSS's proposals could work in practice, but voiced caution.
"I suspect that there will be significant and worthwhile savings, [but] probably not to the extent that has been claimed," he said.
"But the NHS is clearly spending a large amount of money on this and it could probably employ more nurses.
"So it is a trade-off and it is a significant sum of money. However, the health service spends in excess of £6,000m in Wales alone, [and] £1m is relatively small."
Carol Lamyman Davies, director of the Board of Community Health Councils in Wales, said some of her members agreed with the NSS.
She said: "I have to say that the majority of people canvassed for their opinion did say that it is a vital service, and they said that across the board.
'Helps with treatment'
"But they felt that this sort of care should be provided from charitable funds."
Alan Delve is receiving chemotherapy at Singleton Hospital in Swansea for stomach cancer, and said his spiritual care was as important to him as the medical care.
Mr Delve said: "Well, spiritually it's good, because it takes you out of the normal routine of just having treatment.
"It gives that little extra. It's helpful, it helps with the treatment."
Singleton's multi-faith room is open 24 hours and has prayer mats facing east towards Mecca for Muslim visitors.
There are also some idols of Hindu gods and goddesses, photographs of Sikh gurus and an altar and candles.
There is a reading material from all the faiths and a little prayer book where people can leave their thoughts and messages.
A Welsh government spokesman said: "We regard hospital spiritual care services as a good investment.
"It plays an important role in supporting and counselling patients, relatives and staff. It's available to people whether they have religious beliefs or not."