North Wales crime up, but down in south, Gwent and Dyfed-Powys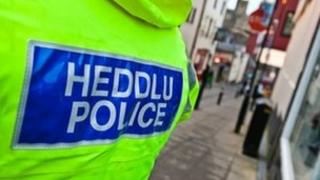 House burglaries across the North Wales Police force area increased by 22% in the 12 months to December.
The latest figures from the Crime Survey show there were nearly 1,800 burglaries. Overall crime in the force area increased by 2.3%.
But overall crime dropped elsewhere, with a 11% reduction in the Gwent force area, with house burglaries down 28%.
Crime across the South Wales Police area fell by 6.6%, while in Dyfed-Powys it dropped by 2.6%.
North Wales Police deputy chief constable Ian Shannon said although recorded crime per 1,000 population had risen slightly on last year's figures, there was a reduction in criminal damage and violent crime.
"North Wales remains a safe place to live," he said.
"The Crime Survey also finds that the public's perception of the force continues to improve, both in the work we do with local councils to tackle issues and in the way we deal with public concerns.
"Reducing crime and anti-social behaviour and protecting people remains our priority," he said.
Figures for the Gwent Police force area show there were more than 600 fewer house burglaries.
Street theft in England and Wales increased by 10% - the biggest leap for a decade, according to the figures but, overall, crime has fallen by 3% since 2010.