National Botanic Garden of Wales appoints first resident poet Mab Jones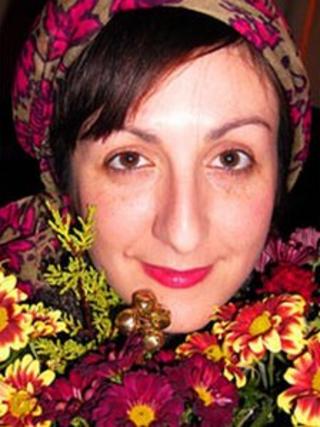 The National Botanic Garden of Wales has appointed its first resident poet - and she is a city dweller.
Mab Jones, from Roath, Cardiff, will use the tranquillity and beauty of the garden near Carmarthen in Carmarthenshire to inspire her work.
She said she did not have an intererest in plants until she wrote a poem about an unusual flower bud at the garden.
She will be at the garden three days a month and will use it to inspire her poetry, particularly about people.
"My main interest is people rather than flowers," she said.
"Flowers are beautiful and I love them but it's people I'm interested in and probably you will think you're reading [a poem] about daffodils but it will be about visitors to the garden, or people who work in the garden or people I know.
"Because part of what I'm going to be doing is actually engaging with people, not just wandering around working on my first collection.
"Because I'm a performance poet, I'll be doing readings and performances and workshops."
She said growing up in Cardiff, she was not interested in nature.
"I think I was rebelling against my mum - she was always in the garden. I thought I was an urban person," she said.
"But now I love flowers and the birds. So I'm keen to embrace nature."
The botanic garden first became aware of Ms Jones when she wrote a poem praising the biggest bud in Wales, which bloomed last year in its Great Glasshouse, called Poem for the Puya.
She said she was inspired by the plant after hearing about it on the news.
"It's a very unusual flower. Basically it doesn't bloom every year or biannually - it blooms when it wants to, so it's a bit obstreperous, as my mother would say," said Ms Jones, who has been a performance poet for four years and recently represented Wales at a cultural festival in Japan.
"The last time it was in bloom was 10 years ago and normally it's really ugly. It's got these huge spiked leaves with the power to pull in small animals and they then die and they feed off their blood.
"So it's a little bit of an evil, ugly thing but when it's in bloom it's got these beautiful golden flowers and they're full of nectar and animals and even humans can drink the nectar.
"It's kind of like an energy drink.
"I have been saying it's a bit of an ugly duckling because my poem is sort of about the flower but it's sort of about a girl or a woman who becomes beautiful."
Ms Jones will be taking up her role as the botanic garden's resident poet this weekend and plans to hold readings and worshops for visitors.
She hopes her year-long post will help popularise poetry.
"It is a beautiful, breathtaking place, and I am hoping I can take inspiration from the amazing plants, fantastic flowers, interesting people, and diverse mix of visitors to the garden to create my first poetry collection," she added.
As well as the glasshouse - which houses Mediterranean plants - the botanic gardens also have a bee garden, Japanese garden, bog garden, national nature reserve, tropical house.
David Hardy, of the National Botanic Garden, said: "As an award-winning performance poet, Mab will also be using her charm and wit to engage with visitors, and encourage a love both of nature and of poetry."