Ed Miliband backs Peter Hain in legal row over memoirs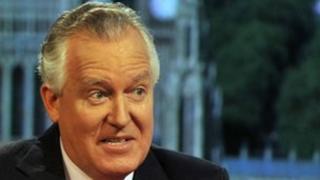 Labour leader Ed Miliband has backed shadow Welsh secretary Peter Hain in a legal row over the Neath MP's memoirs.
Mr Hain faces legal action from the Northern Ireland attorney general.
John Larkin is trying to prosecute Mr Hain, a former Northern Ireland Secretary, over criticisms he made of a judge in his book.
Senior MPs have already hit out at the legal proceedings, describing it as an attack on politicians' freedom of expression.
Mr Miliband told BBC Wales: "I think free speech is a very important principle and I think it does need to be protected.
"I don't want to interfere in any processes that take place. But I hope reason takes precedence here, and reason and the right of Peter Hain to express his view prevails."
Mr Larkin has been granted leave to prosecute Mr Hain and the publishers of his memories, over claims that a passage in the book "undermines the administration of justice".
The passage referred to Lord Justice Girvan's handling of a case which examined Mr Hain's appointment of a Northern Ireland Victims Commissioner.
Last month, former home secretary David Blunkett criticised Mr Larkin's decision to take legal proceedings against Mr Hain.
Mr Blunkett told the Commons people were entitled to "fair comment".