Ched Evans: Sheffield Utd's Connor Brown suspended over Twitter rape case posts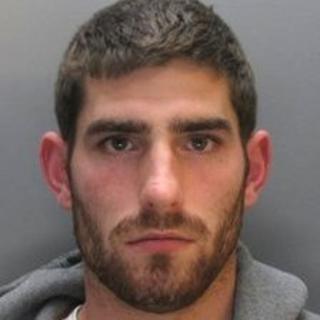 Sheffield United have suspended a team-mate of Ched Evans over comments allegedly made on Twitter following the Wales international's jailing for rape.
The club said it would investigate apparent postings on reserve team player Connor Brown's Twitter account.
Legal experts have expressed concern over the alleged naming of Evans's victim by other Twitter users.
Evans, 23, was jailed for five years on Friday for raping a 19-year-old woman in Rhyl, Denbighshire.
North Wales Police are investigating reports that the woman has been named and abused on Twitter.
Det Ch Insp Steve Williams said people who added comments about the case had to "appreciate that they may be condoning such behaviour and contributing to the continued trauma upon this young woman".
Sheffield United said Brown had been suspended with immediate effect. There is no suggestion the player had identified Evans's victim.
In a statement on its website, the club said: "There will be no further comment from the club during the process of the investigation which it hopes to conclude swiftly."
Evans admitted having sex with the victim at a hotel in north Wales last May.
The woman said she had no memory of the incident and the prosecution successfully argued she was too drunk to consent to intercourse.
Port Vale defender Clayton McDonald, 23, who also admitted having sex with the victim, was found not guilty.
Meanwhile, Sky News has issued an apology after it briefly revealed the victim's name during its television coverage of the story.
In a statement, Sky News said: "In our coverage... we very briefly revealed the victim's name despite heavy redaction, and if watching in real-time viewers would not have noticed.
"We would, however, like to apologise to the victim and her family for any distress caused."