Seren Bernard: Mother Sarah Pollock seeks answers over daughter's death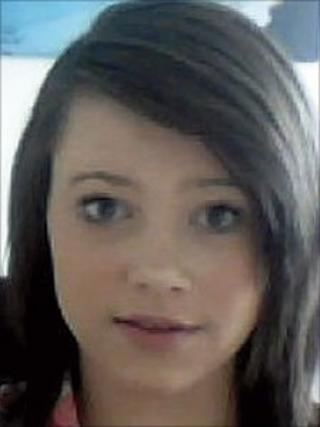 A mother has called for answers over the death of her 14-year-old daughter while under the care of social services.
Seren Bernard's body was found in Milford Haven, Pembrokeshire. Police have said the death was not suspicious.
Sarah Pollock, from Haverfordwest, has complained to an ombudsman, claiming her concerns and views were ignored.
Pembrokeshire council said the death of a child was a "matter of great concern" and all issues would be examined.
Dyfed-Powys Police have said Seren's death, earlier this month, was not suspicious, but a report would be prepared for the coroner.
Her mother told BBC Wales she used to be close to her daughter, and described her as a grade A student who loved sport.
She said that about two years ago, Seren started behaving aggressively.
Ms Pollock said her daughter started smoking, drinking and playing truant. Her mental state had deteriorated, she added, and she tried to get counselling for her.
Ms Pollock says: "Her escalating behaviour was really attitude towards others, aggressive, which was why I requested the counsellor."
Seren rejected her, she said, and claimed she did not want to live with her mother on the grounds that she was aggressive.
"It was easy to see for everybody that this was a child going down the slope," Ms Pollock said, but she does not believe that she as her mother was the problem.
Ms Pollock said her daughter "didn't like the rules and the boundaries that were being put down" about such behaviour as smoking cannabis and drinking alcohol.
"I need help making sure that there's a thorough inquest, my voice is heard. I need help obtaining answers.
"I would rather be facing a kidnap charge right now because to go and identify your child is not very good at all, it's not the most pleasant thing you'll ever do in your life."
Pembrokeshire council said a child's death was "a matter of great concern and sadness" in all circumstances.
It added: "Every child death in Pembrokeshire is referred to the Pembrokeshire Local Safeguarding Children's Board.
"The board will examine all the issues surrounding the death which is currently under the jurisdiction of HM Coroner."