London 2012: Cardiff Olympics rings unveiled outside City Hall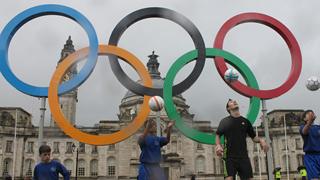 The Olympic rings were officially launched in Cardiff, with the sports minister saying it would help encourage healthy lifestyles among young people in Wales.
The launch was outside City Hall, close to where eight Olympic football matches will be held at the Millennium Stadium.
Huw Lewis said the symbol would "shine a light" on the Welsh government's healthy lifestyle goals.
A series of cultural events were also unveiled.
London 2012 dignitaries, former athletes and artists attended the launch event.
Mr Lewis said the games would help "raise the profile of sport in Wales" but that they must be a catalyst to get young people hooked on sport for life.
The five coloured rings were the third set to be unveiled in the UK, 93 days ahead of the London 2012 opening ceremony.
They measure 18m (59ft) in length and are 8m (26ft) high and symbolise the continents of the world.
Newport-born Olympic medallist Jamie Baulch said: "These rings are such an iconic symbol.
"I never thought I'd see them in Cardiff in my lifetime. The Olympics are much closer to people in Wales than we may think."
The unveiling took place alongside the launch of the London 2012 Festival programme for Wales.
New events were announced for the 12-week programme which will run from 21 June to 9 September.
'Fantastic ideas'
They include Newport hosting the Busk on the Usk festival on 30 June, a free event featuring live music, literature, spoken word, street theatre, art and food events.
Founded by former Blur singer Damon Albarn, the African Express train, carrying African and Western musicians, will call in to Cardiff on 6 September.
The Big Dance 2012 will also take place in Cardiff, allowing members of the public the chance to take part in a world-record attempt for the largest Bollywood dance performance.
Welsh artist Marc Rees has transformed a DC-9 airplane into a venue which community groups and artists can use as it tours Wales from 24 June. The mobile art space, which is named Adain Avion , will be pulled into each town it visits by members of the public and is set to host over 150 cultural activities during its tour.
Elsewhere, Cemaes Bay on Anglesey will host an art exhibition called Peace Camp. The event celebrates the beauty of the nation's coastline through poetry.
London 2012 organisers hope more than 10 million people will have access to free events across the UK.
The Cultural Olympiad board want people to be able to participate in events.
Chair Tony Hall, said: "It was vitally important we won the backing of people in Wales for what we want to do and we've done more than win backing, they've come up with some fantastic ideas and funding as well."
The Millennium Stadium will host the Olympics' first events, two women's football matches on Wednesday, 25 July.