Diamond Jubilee: Extra bank holiday 'ups and downs for economy in Wales'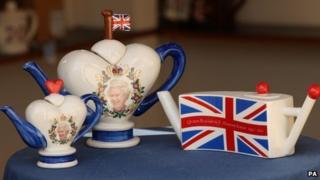 Some businesses in Wales expect profits to rise with the extra Diamond Jubilee bank holiday, but there are warnings the economy could be hit.
Unsurprisingly, companies making jubilee-related products are seeing orders rise, and industries like tourism could also benefit.
But there are fears the bank holiday cluster may harm the economy.
The Federation of Small Businesses (FSB) in Wales says the extra day off could cost the UK £6bn.
Plaque producer Barry Young, of Cardiff-based House and Gardens, has seen a big rise in sales after spotting potential in the Diamond Jubilee.
He said: "I noticed that we were getting a lot of interest for tree plaques for the Diamond Jubilee woods that are being planted across the UK and I thought, well, let's tap into that market," he said.
"When I look at the order books I can see that this product has boosted sales by 20%."
Kate Glanville, who runs a pottery company in Bethlehem, Carmarthenshire, designed a jubilee range of plates and mugs, and has also seen orders increase.
She said: "Schools began asking for mugs.
"They wanted something that the children would be able to identify with and would help them feel part of this special day."
Mrs Glanville's interpretation of the Queen on her earthenware pottery has proved popular.
She added: "I'm getting a lot of orders, but it was the same last year when we had the royal wedding: people just wanted to have their own piece of it and the same is true this year.
"For me this is an opportunity too good to be missed."
This is the second consecutive year that Britain has been given an extra day off. Last year a bank holiday was created to celebrate the wedding of the Duke and Duchess of Cambridge.
The long weekend came a few days after the Easter bank holiday, with many people booking a longer break.
Iestyn Davies, of the FSB in Wales said the cost to the UK economy of £6bn was realistic with the same bank holidays this year.
"Manufacturing has a particular problem in maintaining production - cost goes up when you bring in staff over a bank holiday weekend.
"Even small cafes are affected - people like to get paid extra to work on a bank holiday and it's right that they should."
However, Professor Brian Morgan from Cardiff Business School said it was the clustering of bank holidays, rather than an extra day off, that caused problems.
"We tend to be clustering the bank holidays around Easter, May and June - that has a very disruptive effect," he said.
"Clustering them in this way does tend to enhance the costs of shut-downs and thereby has a negative impact."
However, he believed the impact of an extra bank holiday was "very, very marginal".