North Wales Police target illegal drivers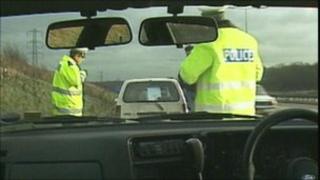 North Wales Police are targeting illegal motorists in a two-week campaign on the region's roads.
Officers will be using automatic number plate recognition technology in their drive to catch offenders.
The force will be looking for people driving whilst disqualified, or without insurance or a valid licence.
Deputy Chief Constable Ian Shannon said the police could reduce road casualties and help lower insurance premiums by "denying criminals use of the roads".
The force will be liaising with the DVLA and the Motor Insurance Bureau and has also appealed to members of the public to alert them to potential suspects.
"Anybody found to be driving illegally can face being arrested," said Mr Shannon.
"We will use all available powers to seize illegal vehicles and remove them from the roads. By doing this, we are helping to safeguard the lives of others.
"The public can be reassured that we will not tolerate crime on our roads therefore if you suspect an illegal driver please contact us."
In the 2011/12 financial year North Wales Police made 282 arrests made with regards to illegal driving.
Of those, 139 were disqualified driver arrests, with 56 driving licence arrests and 87 vehicle insurance arrests.
During the same period the force seized 661 vehicles under Section 165 of the Road Traffic Act.
Anyone with information about illegal drivers is urged to contact North Wales Police by dialling 101, or anonymously via Crimestoppers Wales on 0800 555 111.