Many tanning salons not checking ages, says charity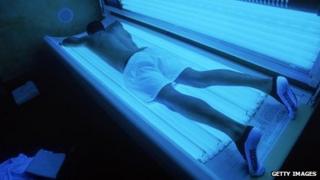 Nearly a third of tanning salons in Wales are breaking the law by not checking if customers are underage, an undercover survey suggests.
Many salon supervisors are also giving incorrect and potentially dangerous advice to users, says the Chartered Institute of Environmental Health.
A ban on under 18s using sunbeds came into force in Wales in April last year.
The Sunbed Association, which speaks for around one in four salon owners, said none of its members were involved.
Last April, the law was changed, banning under 18s from using sunbeds in Wales and England.
To test compliance, the Chartered Institute of Environmental Health (CIEH) sent 18 environmental health students on secret visits to 81 salons in 12 Welsh local authority areas.
The researchers found 32% of those salons did not check the customer's age.
In more than half the salons visited, Welsh government safety advice posters were not shown to customers or were not displayed, they found.
CIEH director in Wales, Julie Barratt, said the researchers were given a number of stories to tell, each of which she said should have prompted a competent supervisor to advise customers to see a doctor.
She said: "We got some outrageous answers.
"The worrying thing for us is that this whole protective regime has been put in place and there seems to be the misplaced belief on behalf of sunbed salons that they are qualified to offer advice."
She added: "It's time we started showing our teeth and prosecuting one or two."
The Sunbed Association, which represents around a quarter of the UK's 4,000 salon owners, said it was certain none of its members were involved in the survey.
It said that if any of its members were found to be breaking the law, they would be expelled.
Chairman Gary Lipman told BBC Radio Wales that the association had followed a "robust" code of practice since 1997.
"We believe very strongly about screening and who should and shouldn't use a sunbed," he said.
"We've always had an underage ban but our evidence shows that children using sunbeds was not a problem at all."
The association said that Cancer Research UK's statistics into the age of sunbed usage, prior to the introduction of The Sunbed Bill, showed that 88% of 15-17 year olds had never used a sunbed and of those that had, 50% had used a sunbed once or less than once a year.