Domestic abuse: Rugby star Adam Jones urges men to speak out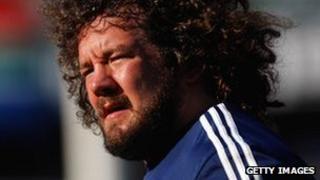 Wales rugby star Adam Jones will call on men to speak up for women's rights in a campaign being launched at the Welsh assembly.
Cardiff Women's Aid wants to recruit male volunteers to challenge domestic violence, abuse and inequality.
"Violence against women is unacceptable," said Ospreys star Jones.
"It's about time that this is seen not just as a women's issue - but something we should all be doing our bit to put an end to."
Men are being invited to join the education and advocacy project covering Cardiff and the Vale of Glamorgan, which has already recruited more than 40 female volunteers.
"We all need to play a part in changing our communities so that women and girls across Wales are free from fear of violence," said Jones.
"I'm proud to be a man who stands up for what's right, and I'm calling on all other men to do the same."
Rigid roles
Project leader Claudia Donati said she felt that men and boys would benefit from greater equality and understanding as much as women and girls.
She said: "Increasingly men themselves acknowledge they too are constrained by rigid gender roles.
"Many men are willing to envisage a world where they are able to be the kind of men they want to be - in a world free from violence.
"However, every man who stands up for gender equality has to face the difficulties of going against societal norms which are reinforced every day.
"This is why the project needs men to stand up for gender equality and bring about positive change."