David Cook jailed for life for Leonard Hill murder, 24 years after killing woman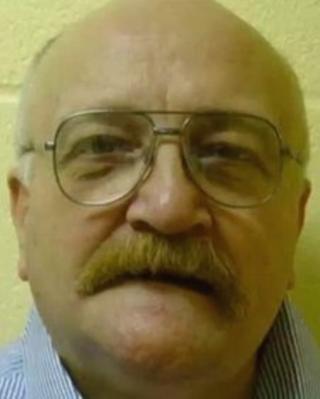 A man convicted of killing a Sunday school teacher 24 years ago has been jailed for life for a second murder.
The judge told David Cook, 65, who had been freed from jail in 2009, he would never again be considered for release on licence.
He denied murdering his neighbour Leonard Hill, 64, but admitted killing him in Rhymney, Caerphilly county.
Wales Probation Trust, which has been criticised by Mr Hill's family, has asked for a Serious Case Review.
Cook said he strangled Mr Hill at his flat with a flex after he was angered by unwanted sexual attention.
But the prosecution said debts of more than £5,000 were the real motive for the killing.
During the trial at Newport Crown Court, the jury heard heard that Cook was convicted of the murder of a woman in Reading, Berkshire, in 1988. She had been bound and strangled with a ligature.
He was released on life licence in 2009.
It took the Newport jury just over an hour to reach a guilty verdict on Tuesday.
'Chillingly deliberate'
Passing sentence on Wednesday, Justice Griffith Williams said he was giving Cook a whole life order as the seriousness of the offence was "exceptionally high".
The judge told Cook: "You are a pathological liar, who does not scruple to tell any lie to further your interests".
He said Mr Hill was a very "anxious, private, heterosexual man" whose alleged behaviour was "the very antithesis of his true nature".
"You took advantage of the trusting nature of Leonard Hill when you needed money," the judge added.
"It is aggravated by the vulnerability of your victim and with an element of premeditation.
"The murder was carried out in a chillingly deliberate way".
The court heard that Cook ransacked Mr Hill's bungalow after the killing, stealing his wallet before going to a nearby pub for a drink.
He then went about his business as normal for 12 days while his victim's body decomposed.
Mr Hill's family have criticised the probation service.
Following the guilty verdict, Mr Hill's sister-in-law Carol Hill said the family needed to know who assessed Cook as being safe to release on licence and subsequently monitored him.
She said: "In 2008 when he escaped from an open prison he was deemed to be dangerous. And then suddenly he's fine.
"I need to know whether the probation services knew he had all this debt.
"I need lots of answers."
Wales Probation Trust has offered its "deepest sympathies" to Mr Hill's family.
The trust said the review of the case would look at how all the agencies work together, but said it could not comment further until that was complete.