St Fagans museum's planning bid worth £24m submitted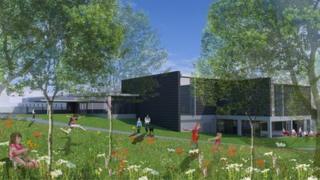 Plans for a £24m revamp and expansion of Wales' most popular heritage attraction have been submitted to Cardiff Council.
If the work at St Fagans National History Museum goes ahead, the Heritage Lottery Fund (HLF) will contribute £12m and the Welsh government £6m.
The National Museum Wales will raise the remainder.
The proposals include a new building for exhibitions and improved visitor facilities.
The project would be among the "most radical" in the museum's 63-year history.
Plans to renovate St Fagans, which has more than 600,000 visitors a year, were first revealed in January.
They include upgrading the visitor facilities and making space for two new permanent exhibitions.
A new environmentally-friendly building will illustrate the story of Wales from 230,000BC, when the earliest Neanderthal teeth found in the country, to the present.
Two new historical structures, an Iron Age farmstead from Anglesey and "Llys Rhosyr," a 13th-Century court of the Princes of Gwynedd, will be built using archaeological remains from Anglesey.
Success
Volunteers and students will build the 90m-long hall, which will be built in woods at the south-west end of the site.
A new building will be constructed on the site of the current Celtic village, which will be moved to another site at the museum.
It will include an exhibition that looks like the relationship between humans and the environment.
An announcement on the success of the bid is expect by the end of July.
A spokesman for St Fagans National History Museum said it was a five-year project.
The application predicts the museum will receive a 25% boost in visitor numbers within two years of the project's completion.
Construction is expected to create an extra 58 jobs, with plans for 33 new jobs at the museum once the works are completed.