Vote 2012: Ceredigion council leader Keith Evans loses seat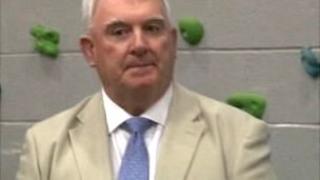 The Independent leader of Ceredigion council, Keith Evans, has lost his seat to Plaid Cymru in the local elections.
But Plaid failed to take overall control from an Independent/Liberal Democrat/Labour coalition, winning 19 seats, down one from 2008.
Mr Evans, had represented Llandysul for 27 years, said cuts to services could have played a part in his defeat.
Independents took 15 seats, the Lib Dems won seven and Labour one. In Powys, the Lib Dems lost their leader.
Some 1,200 unitary authority seats in 21 local authorities are being contested across Wales, as well as community and town councils.
All but two of the 21 councils in Wales have declared their results.
The former Ceredigion council leader Mr Evans reflected on a disappointing night.
"It's always disappointing, but in an election somebody's got to win and somebody's got to lose," he said.
"I've stood as an elected member representing Llandysul for 27 years and that's now come to an end.
"I congratulate Peter Evans (his successor) on his success and wish him well for the future, but he's got a lot of hard work ahead of him."
Keith Evans put his defeat, in part, down to calls for free car parking, which had been an issue in Llandysul, and cuts to services in the county.
"People don't like councillors who have to make decisions, but decisions have to be made," Mr Evans added.
"We've been duly elected to undertake those measures.
"We've run a very successful council in Ceredigion over the years, but it is actually pinching at this time with significant cuts year on year and you cannot continue to sustain business or services as you currently do and people are very reluctant to change."
The leader of Ceredigion council's Plaid Cymru group, Ellen ap Gwynn, said her party's performance in the county had been "variable".
"It was almost a repeat performance of four years ago," she said.
"This time it was better because we actually knocked out the leader of the council in Llandysul and we knocked out two cabinet members, two Lib Dem cabinet members.
"On the other hand, we've also lost good members unfortunately, so we're back to square one where we were exactly four years ago - the biggest group on council with 19 councillors but not quite enough to takeover."
Elsewhere in mid Wales, 50 seats were being contested in Powys.
Council leader E. Michael Jones was one of those who retained his seat, along with Football Association of Wales president Phil Pritchard and veteran councillors Gareth Morgan, Anne Holloway and Garry Banks.
Independent councillors have taken 49 seats, but there are two groups - Powys Independent Alliance who ran the council in coalition with the Lib Dems and the Shires Independent Group.
A breakdown of how many seats the individual independent groups have won will not be available until later.
The Conservative Party gained a seat taking its overall tally to 10. It could not repeat its success of 2008 when it went from having no seats on the council to having nine.
The Liberal Democrats lost three councillors, including its group leader Leslie Davies and fellow cabinet member Ken Harris, reducing its overall number to eight.
Labour increased its councillors in Powys by one, taking its seats to six.
All the latest election results are available at bbc.co.uk/vote2012