Analysis: Labour result 'ticks the boxes'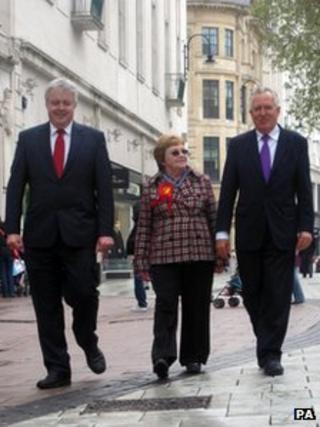 Throughout this campaign, Labour have been setting targets but also managing expectations.
They couldn't have hoped for better than voters delivered.
They wanted Wrexham, they wanted Swansea. They got them. They really wanted Cardiff and they really, really wanted a majority in Cardiff. They have ticked all those boxes.
It is a complete turnaround from four years ago. They've turned a belting defeat into a thumping victory. In fact they gave all the parties a bit of a belting last night.
There is no doubt the message coming from Welsh Labour was: "If you're fed up with the coalition, the vicious UK coalition, send a message to David Cameron."
Now they will point out that they also ran a lot of grass root campaigns across Wales talking about locals issues, but the over-arching message was national: "If you're angry with the cuts, if you think they're making mistakes, and that they're not, in fact, in this with you - then send Cameron a message", and that is what I think happened.
'Wiped out'
It was a disastrous night for the Liberal Democrats.
I was speaking to them during the night and they just sounded shell-shocked.
They're saying that it just wasn't the feeling on the doorstep and you have to believe their sincerity, but that just doesn't matter. What matters is how the nation voted and the Lib Dems have been given a real kicking.
If you remember back to the assembly elections, people were predicting a bit of a wipe out for the Liberal Democrats, and I remember seeing Kirsty Williams (party leader in Wales) in the early hours of the morning saying: "You were all saying we'd nearly be wiped out.
"Look where we are, we've just lost one seat. You exaggerated the feelings on the doorstep."
But last night where there was no element of proportional representation in the vote at all, and there were no list seats, there were no swings to come and save you from the worst of the roundabouts - look what happened to them.
'Setback'
I genuinely think Plaid Cymru saw this coming. They've said from the very beginning that it was going to be very tough night because they did so well four years ago.
They have been adamant all along that six weeks just isn't enough for any new leader to turn the Plaid Cymru ship around, but there is just no question that Leanne Wood won the leadership because a lot of ordinary Plaid members believe she's the one who will help them break through, that she could take on Labour in the valleys - the holy grail for Plaid Cymru.
No matter how many times you mention those six weeks, you do feel the complete failure to break through in the valleys, the ground lost, is going to tarnish her very clear victory in that leadership election.
The Tories suffered too, no question. It wasn't the rout the Lib Dems faced but the bottom line is that they lost a lot of ground and lost control of the two councils they had to their name. Had they seen that coming? No.
Andrew RT Davies accepts it's "a setback".
It's certainly that and it'll do little to dispel persistent whispers from within his own group about his leadership and his popular appeal.
All the latest election results are available at bbc.co.uk/vote2012