Vote 2012: Labour gains in Wrexham, Flintshire and Denbighshire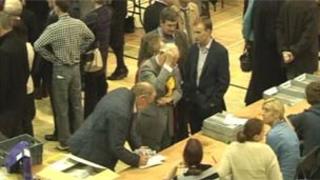 Labour was the clear winner in council elections in north east Wales, gaining 30 seats in Wrexham, Flintshire and Denbighshire.
However, the three councils still have no single party in overall control.
The Liberal Democrats lost seven seats in Wrexham, with their leader Ron Davies losing to an Independent.
In Denbighshire, Labour took 12 seats with Conservative members losing half of their 18 seats. Labour also made gains in Flintshire.
Labour made 10 gains to take 23 seats in Wrexham, the first full result announced in Wales.
In Denbighshire, Labour gained 12 seats with 18 in all, followed by Others on 12, down three seats.
Conservatives lost nine seats but continue to hold nine, with Plaid losing one seat to leave them with seven.
Wrexham was run by an all-party coalition, with Labour previously the largest party with 12 seats.
The authority will remain under no overall control, as Independents took 18 seats, Conservatives won five, Plaid Cymru one and Non Aligned one.
Mr Davies said he did not expect such a bad result for the .
"It's a great disappointment, particularly for some of the members who are younger than me," he said.
"They've worked so hard for the area and it's pulled the rug from under them."
In Flintshire, Labour won 31 seats, up from 21, to make it the largest party.
The authority was previously run by a Conservative/Independent/Liberal Democrat coalition.
Independents won 19, down five, while the Conservatives took eight seats, and Lib Dems seven.
Labour leader Aaron Shotton said he was pleased with the nine gains his party made in Flintshire, even though it left Labour five short of an overall majority.