Airbus finds solution to cracks in Broughton-made wings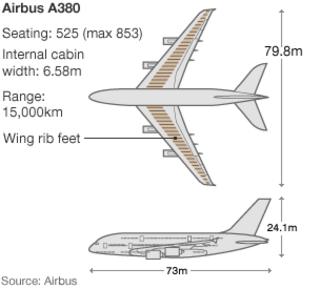 An Airbus boss says the company has found a long-term solution to small cracks in some of the A380 super jumbo wings, which are made in Flintshire.
Tom Williams, an Airbus executive vice president, said the issue had been an embarrassment and customers had been let down.
He said there were no safety worries caused by the problem.
Small cracks were discovered last year in a small number of brackets within the Broughton-made wings.
The brackets connect the internal structure of the A380 wings with the outer skin.
It prompted the European Aviation Safety Agency to order inspections at designated times for the entire fleet currently in service.
Mr Williams, speaking at the Airbus headquarters in Toulouse, said mistakes had been made in the choice of material for the brackets, and in the way they were designed.
He said it did not in any way reflect badly on the workers at Broughton, as they followed the design specification correctly.
Temporary repairs are being carried out.
Mr Williams said: "I think we now have a long-term solution from a design point of view.
"We have now got to develop the design and put it in real components, build and test those because we do not just flick a switch and say okay let's turn everything over tonight.
"We are now in a situation that by the end of the year we will have a good fix, but keeping in mind the lag it will be well into 2014 before you see aircraft going through the production system that are completely clean."
The first flight of an A380, which is the largest passenger aircraft in the world and capable of carrying 800 passengers, took place just over five years ago.
Around 70 are in service and a further 250 have been ordered.
Speaking about the impact the cracks had on Airbus' customers, Mr Williams said: "There have been cancellation and delays.
"The A380 is successful and makes the airlines lots of money but when it's on the ground you have the reverse so it gets to become expensive.
"It's embarrassing that we have let people down.
"Certainly, from the workers I have been talking to, they have the same sense. We were wrong and we have got to fix it quickly.
"We are trying to be open and transparent with customers about the issues."
Production of A380s slowed down slightly as a result of the problem, but has now returned to normal and there was no impact on staffing levels at Broughton, which employs 6,000 people and produces virtually every wing made by Airbus.
Of the 30 A380s inspected so far, it has been the same 20 brackets where problems have turned up.
There are about 4,000 of these brackets in each set of wings and the problem has been found to be localised in each case.