Wales air ambulances and police helicopter fly again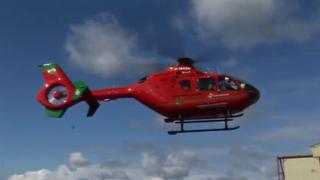 Emergency helicopters grounded after concerns about possible cracks in rotor blades have been allowed to fly again.
Flights of 22 Eurocopter EC 135 helicopters in the UK were suspended as a precaution by operator Bond Air Services. They were permitted to fly again from Wednesday morning.
Wales Air Ambulance, whose Gwynedd and Swansea crews were affected, said the all-clear had been given on Tuesday.
A model shared by the Gwent and South Wales police forces was also grounded.
South Wales Police said the helicopter was now back in the air.
The 22 Eurocopter EC 135s, including 16 air ambulances across the UK, were suspended as a precaution by operator Bond Air Services following the discovery of a fault in an air ambulance in Scotland last month.
A crack was discovered on the main rotor hub, prompting a safety warning by the European Aviation Safety Agency (Easa).
However, on Tuesday, following discussions with manufacturer Eurocopter, Bond said flights could resume on Wednesday morning.
Safety notice
Bond previously said it had taken action after Eurocopter issued a safety notice on Sunday morning urging operators to increase the frequency of checks on the EC 135.
Eurocopter did not order the grounding of the fleet, but Bond said it felt compelled to take that decision.
Wales Air Ambulance (WAA) said its Gwynedd and Swansea crews were affected, even though no defects had been found in its two leased EC 135s.
A WAA spokesperson said: "Wales Air Ambulance has resumed normal service from 7am this morning following guidance from operator Bond Air Services.
"The decision to resume flying its complete service was made late last night following a thorough investigation into a safety issue which had led Bond to ground all its EC135 helicopters across the UK as a precautionary measure."
The charity's third helicopter, a 20-year-old machine based at Welshpool, Powys, extended its area of operations to cover the whole of Wales while other craft were grounded.
WAA said it has leased two EC 135 air ambulances from Bond since 2009 and the model had an exemplary safety record.
The service has carried out more 16,000 missions to date since its launch on St David's Day 2001, with each mission costing approximately £1,500.
It said that the service costs £6m per year to run.