Shortlist for Wales Book of the Year 2012 unveiled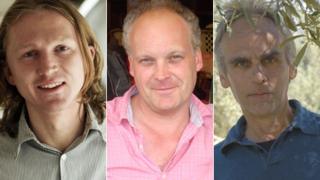 The shortlist for Wales Book of the Year has been announced along with some changes to the prestigious event.
Categories in poetry, fiction and creative non-fiction are being introduced for the first time this year.
Three titles have been short listed in each category in both Welsh and English.
The shortlist was announced at an event in Brecon at Theatr Brycheiniog on Thursday.
In the English poetry section, Catulla Et Al by Tiffany Atkinson, Deep Field by Philip Gross and Sparrow Tree by the former National Poet of Wales, Gwyneth Lewis, have been shortlisted.
The three titles in the fiction category are Wild Abandon by Joe Dunthorne, The Keys of Babylon by Robert Minhinnick and The Last Hundred Days by Patrick McGuinness.
The creative non-fiction category includes Ghost Milk by Iain Sinclair, The Vagabond's Breakfast by Richard Gwyn and Byron Rogers' Three Journeys.
Lleucu Siencyn, the chief executive of Literature Wales, which is staging the event, said: "The Wales Book of the Year 2012 shortlist reflects the quality of the writing that is published here in Wales today.
"This award gives a voice to those who write diligently and quietly throughout the year so let's celebrate their achievement and most importantly, read their words."
The books on the Welsh language shortlist are, in the poetry category, Siarad Trwy'i Het by Karen Owen, Waliau'n Canu by Ifor ap Glyn, and Rhwng Gwibdaith a Coldplay by Gerwyn Williams.
The three in the fiction category are Neb Ond Ni by Manon Rhys, Y Storïwr by Jon Gower and Pantglas by Mihangel Morgan.
In the creative non-fiction section the shortlist comprises Kate: Cofiant Kate Roberts 1891 - 1985 by Alan Llwyd, John Morris-Jones by Allan James, and Hen Enwau O Arfon, Llŷn ac Eifionydd by Glenda Carr.
All the winners will be announced in July.