First Glaslyn osprey chick of 2012 hatches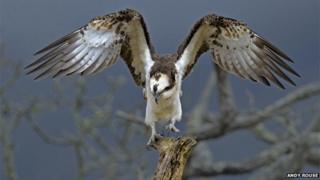 The first of three osprey chicks has hatched at a nest being monitored by the RSPB in north Wales and is thought to be the first in the UK in 2012.
RSPB Warden Geraint Williams said the chick cleared the eggshell at about 10:00 BST on Friday.
Two other eggs on the nest are due to hatch within a few days after an average incubation period of 37 days.
Ospreys began nesting near Croesor in the Glaslyn Valley in 2004 and to date have fledged 18 chicks.
"After a wet and windy night, the female had remained low on the nest. The male arrived with a fish straight away but has been sat patiently waiting to see the chick," said Mr Williams.
"The second egg will hopefully hatch out on Sunday with the third and final egg hatching early next week."
Once prolific birds of prey in the UK, osprey numbers were drastically reduced in the 1840s after years of persecution, including egg collecting, hunting, taxidermy, and loss of habitat.
By the early 1900s there was only one known breeding pair left in Britain, and it was not until 1954 that ospreys began to repopulate in Scotland thanks to a resilient pair of Scandinavian birds which were blown off course.
Ospreys have a long history in Wales dating back to Medieval times when they were referenced in the Mabinogion , and the 1316 Coat of Arms for Swansea and West Glamorgan feature an osprey.
It wasn't until 1997 that osprey began moving south of the Scottish border thanks to a trans-location programme between Scottish Heritage and the Leicestershire and Rutland Wildlife Trust .
The two ospreys which ended up at Glaslyn were probably flying back to Rutland on a similar latitude.
It was a miscalculation in longitude that helped reintroduce ospreys to Wales in 2004 - the first time the species had been officially recorded as breeding in Wales.
Around the same time in 2004 a second pair of ospreys were discovered breeding on a nest near Welshpool in Powys which raised a single chick.
Glaslyn could comfortably hold 10 pairs of ospreys and there are a number of other suitable habitats to the south along the mid Wales estuaries, the Burry Inlet on Gower and the Severn Estuary where osprey have been sighted.
Getting migratory birds to stay and nest is a difficult task according to the RSPB.
By building more artificial nesting towers it is hoped that more birds can be enticed south as migratory birds fly north, after wintering in Africa.
More often than not, male ospreys will return first to their place of birth. They then spend a few weeks exploring the area, often covering large distances, flying over neighbouring counties.
It is on such sorties that young osprey, fresh from migration may discover a new nest site and take up residence.
International osprey expert Roy Dennis believes "there are now well over 250 pairs, possibly 270 in the UK", but ospreys are still scarce with only about 12 pairs in England and two official pairs in Wales, in the Glaslyn Valley and the Dyfi Estuary in mid Wales.
Ospreys have been visiting the Dyfi Estuary for many years but it wasn't until 2007 that two artificial nests were built at the Cors Dyfi Reserve. A year later, a young male nicknamed Monty arrived and has returned ever since.
In April 2011 the pair laid three eggs - the first in over 400 years on the Dyfi Estuary. The chicks fledged in late summer and were tracked via satellite as they migrated south to Senegal, Africa for the winter.
The Dyfi osprey pair returned in 2012 and are currently incubating three eggs. The average incubation period for an osprey egg is around 37 days and they are expected to hatch around 27 May.
The chicks could feature on this year's BBC Springwatch which will be live again from the RSPB reserve at Ynys Hir , near Machynlleth, Powys.