Church group in Llandudno meets at Cineworld cinema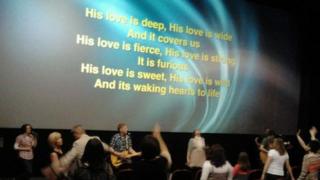 An evangelical Christian group is holding its meetings in a cinema in an attempt to make its followers feel more comfortable.
The church, called i61, began using Cineworld in Llandudno after it outgrew its previous home in a pub.
It is one of a growing number of congregations which prefer alternative venues to traditional churches.
Senior pastor Steve Houghton said: "If they were hitting the mark they would be full - and they are not."
Contemporary setting
With discussions like "God at the Movies" and "Twitter, Facebook and the Lord's Prayer," i61 was never going to be your typical church.
Its venue is hardly traditional either, meeting every week in a Conwy cinema.
Founded in 2006, the group outgrew its first home in a pub, and can now be seen in screens four and five on Sundays at Llandudno's Cineworld.
Senior pastor Steve Houghton, 54, said he wanted a contemporary independent church where people felt "comfortable".
i61 aims to provide an alternative place of worship for people who do not wish to visit traditional churches or follow traditional methods.
The name - Isaiah, chapter 61 - was ultimately chosen by younger congregation members because it reminded them of iPhones and iPads.
Mr Houghton, a businessman and co-founder of the church, has no formal qualification as a minister, believing life experience, and 13 years with a Baptist church, was his "training ground".
He said: "I was in my mid 30s when I started going to church. I was an atheist, I avoided it like the plague up until then.
"I remember thinking how hard it was for people to go into a church."
After outgrowing its pub origins, a deal was struck with Cineworld to use the premises, for gatherings attended by up to 150 members.
The group has a band, practice drama, and tries to use imaginative ways of teaching traditional values.
"I did a message once called Twitter, Facebook and the Lord's Prayer, because probably today God would use social media to try and communicate with us," Mr Houghton said.
Despite the differences to traditional churches, Mr Houghton says i61's message is "fundamentally Christian".
"There's a generation now that don't know where to go if they have spiritual questions," he said.
"They think 'Oh, I didn't want a bible over my head'.
"I wouldn't be negative about churches at all, but if they were hitting the mark they would be full - and they are not."
Mr Houghton describes i61 as an independent church, but it is a member of the Evangelical Alliance Wales (EAW).
Elfed Godding, EAW national director and a friend of Mr Houghton's, said i61 was innovative and "ticked all the boxes".
Mr Godding said in theory anyone could start up a similar group, but the "acid test" for a church to become one of their members was whether the "church starts and operates successfully and whether it is endorsed by other existing churches".
Paul Williams, Llandudno Cineworld's general manager, said branches in London and Manchester ran church groups.
"Sundays are usually a quieter day for us anyway. It's good to have people in the building," he said.
The Church in Wales does not compile figures or categorise alternative church groups, unlike the Church of England, which calls them "fresh expressions".
Andy John, Bishop of Bangor, said: "The Church in Wales is committed to finding new ways of expressing Anglican identity and the many successful projects that we run have become a vital part of church life today."
Baptist minister James Karran, who ran a church group in the bars of Cardiff for four years, said: "The way things are going, statistically, traditional forms of church are dying all over Britain.
"The current trajectory isn't looking very good."