Llandeilo mayor Dawn Wallace finds Queen Victoria portrait left on her doorstep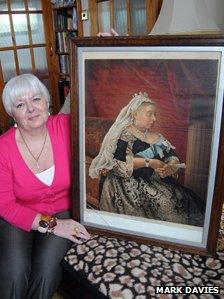 A portrait of Queen Victoria that went missing from the walls of a civic hall has turned up, after being left on the doorstep of the new mayor.
Llandeilo town councillor Dawn Wallace put out a plea to find the artwork after it disappeared from the town's Jubilee Hall during redecoration work.
One morning she found the 3ft (0.9m) by 2ft (0.6m) painting wrapped in a bin liner and left against her porch.
She said: "It's a mystery, unless it's been hanging in someone's house."
The hunt for the lost art treasure was one of Mrs Wallace's first acts when she became the town's mayor.
The South Wales Guardian newspaper reported her plea for information on the whereabouts of the portrait that generations of residents had seen hanging in the civic hall when it was then known as Jubilee Hall.
She said: "It was some pensioners who rang me up about it. They wanted to know what had happened to it.
"It was hanging on the wall in the hall for a number of years. Lots of people remembered it. I remember it from when I was little girl.
"It's not worth a lot of money but I think people wanted to know what had happened to it. It was of sentimental value to the hall."
Mrs Wallace said she had expected to be told that the artwork had been put in a storeroom somewhere while the redecoration work was carried out and it had been forgotten.
But days passed without the lost image being found. Then, one morning, everything changed.
She said: "I had gone across to the library and when I came back, it was outside my door in a black bin bag.
"It was propped up against the porch. It was quite a surprise."
Mrs Wallace has asked for her thanks to be passed on to whoever left the painting, but no-one knows who that might be.
She said: "Everyone is asking me who it was who left it but I don't know.
"We're all very grateful for whoever gave it back. It could have been thrown out and now it has been returned.
"It's quite a striking image. In the back of my mind, I remember something blue on it and Queen Victoria has a blue sash on dark nave dress."
Mrs Wallace said she plans to have the painting re-glazed and re-framed in the hope it can be hung at the town council's offices, Shire Hall.
Related Internet Links
The BBC is not responsible for the content of external sites.