Blood stocks in Wales recover after appeal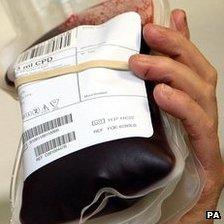 Blood stocks in Wales have recovered after an appeal led to an influx of donors.
The Welsh Blood Service had said the recent bank holiday weekends led to just a few days' worth of some blood types remaining.
However, the Welsh Blood Service is calling on people to continue giving to "keep the momentum up to give us that cushion".
"Our main concern was our O negative blood stocks. We are now up to five days' stock in our blood bank," said Tracy Sampson, of the service.
"To be comfortable we would like to be on seven days.
"If you are a regular donor please continue to give at your regular clinic but I want to say thank you to the general public for supporting us at this time."
She said supplies run low because donors sometimes missed a session over holiday periods while hospitals still continued their work.
The Welsh Blood Service needs about 400 donations a day to meet the demands of the health service, for emergency operations, blood transfusions and organ transplants.
Related Internet Links
The BBC is not responsible for the content of external sites.