Welsh Bacc may be worse for university performance, study says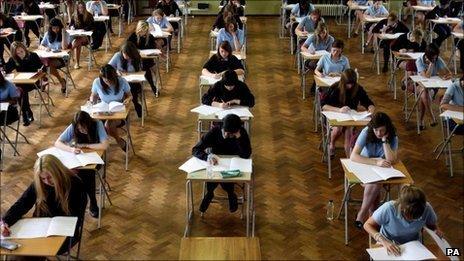 The Welsh Baccalaureate qualification may be detrimental to Welsh pupils' performance at university, according to new research.
A study by the Welsh Institute of Social and Economic Research, Data and Methods (WISERD) suggests undergraduates completing the course fare less well than those who have not.
The findings are revealed on BBC Radio Wales' "Eye on Wales" programme.
The Welsh Government says it will widen research into the Welsh Bacc's impact.
The qualification was introduced about a decade ago, with the aim of offering teenagers a more rounded education than academic subjects alone.
It brings together traditional qualifications like GCSEs and A-levels with the Bacc "core," comprised of a range of modules including team enterprise activities, community participation and Wales' place in Europe and the world.
More than 250 schools and other institutions are approved to deliver the Welsh Bacc.
A research study commissioned by Cardiff University statistically analysed the progress and performance of students, focusing on a range of criteria including end-of-year exam marks, re-sit and drop-out rates, and final degree classification.
Professor Gareth Rees, director of WISERD, who led the study, said: "What we have found is that, broadly put, if you compare the progression of students through their university career, comparing those students who have the Welsh Bacc with those who don't have the Welsh Bacc, then it's the students who don't have the Welsh Bacc who tend, on average, to perform better.
"The results that we have, at a minimum, raise a question mark over how effective the Welsh Bacc core is in preparing students for studies in higher education."
Prof Rees stressed that the study focused on a relatively small cohort of students at a single university, adding: "If, and it's a very big if, the sort of results we've produced in one university were replicated elsewhere then I think there would be very serious issues to be addressed in terms of the Welsh Baccalaureate."
However, he said it was "premature to make judgements."
A Welsh government qualifications review will go out to public consultation next month, and report on its findings later in the year.
It has pledged to widen the research to explore the impact of the Welsh Bacc on how students fare at other universities.
Jeff Cuthbert, deputy minister for skills, said the research had "raised important issues" and said the Welsh government would "look to see exactly how well the Baccalaureate at advanced level prepares those who wish to enter into higher education".
He added: "I'm aware of some of the criticisms of the Baccalaureate, but the overwhelming evidence from learners, parents and employers is that it's a positive experience which broadens the mind."
The review is considering grading the Welsh Bacc, which is currently assessed on a pass or fail basis.
The University and Colleges Admissions Service (UCAS) stipulated the Bacc was worth 120 UCAS points, or equivalent to an A-grade at A-level.
Although teaching unions are broadly supportive of the Welsh Bacc, some people have expressed concern about a lack of consistency across the higher education sector.
Tomos Povey, 19, a history and politics student at Aberystwyth University, said he was initially "ecstatic" to be studying the Welsh Bacc.
He added: "But actually, as time progressed, when we were applying through UCAS for our university placements, only certain universities were accepting it as an A-grade."
Eye on Wales is broadcast on BBC Radio Wales, Sunday, 13 May, at 13:04 BST.
Related Internet Links
The BBC is not responsible for the content of external sites.