Community nursing in Wales overburdened, says RCN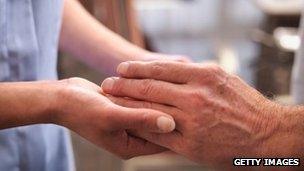 Many community nurses in Wales are facing cuts and spending less time with patients, while services are "overburdened," a survey has found.
The study by Royal College of Nursing (RCN) comes as the Welsh government plans to provide more care out of hospitals and in the community.
The RCN said vulnerable patients faced being discharged from hospital before community care was in place.
The Welsh government said it would explore the survey responses.
The RCN said its survey demonstrated that community services were overburdened and under-invested and at risk from cuts.
It said community nurses found that fewer than one in 10 (6%) said they always had time to meet the needs of their patients, while almost all (89%) said their caseload had increased over the last year.
Nearly six in 10 (59%) reported that they were spending less time with their patients than they did a year ago.
Tina Donnelly, the RCN's director in Wales, said: "Community nurses gain intimate knowledge of their patients and clients and communities because of their daily contact with people in their own homes.
"The RCN fully supports the government's aim of enabling people to remain at home when appropriate. But this aim can only be achieved with the support of a well prepared community nursing workforce.
"While service redesign continues at great pace, RCN Wales wants to ensure that patients are cared for by adequate numbers of nurses and health care support workers who are well educated and well supported by their employing organisations."
A Welsh government spokesman said it had a close working relationship with the RCN.
"Both bodies are committed to improving patient care, and to delivering safe, timely services that protect patients' dignity," he added.
"We will explore the survey responses that apply to Wales, and consider what action could be taken.
"The NHS in Wales has to make fundamental changes to ensure it is safe and sustainable for patients in the future, and we will work in partnership with the RCN to achieve this."
Related Internet Links
The BBC is not responsible for the content of external sites.