'English exceptionalism' threat to union says Education Minister Leighton Andrews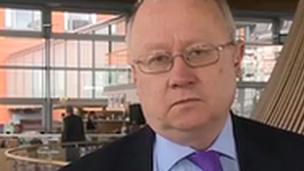 The education minister in Wales has accused the UK government of "English exceptionalism" which is threatening the unity of the United Kingdom.
Leighton Andrews said the Conservative-led coalition made decisions without regard for devolved administrations.
He said the coalition presumes that it can speak for the whole of the UK on education, while on welfare reform it takes England as a default.
The UK government said it it "understands and respects" devolution.
Mr Andrews used a lecture to the Institute of Welsh Politics in Aberystwyth to launch a scathing attack on policy-makers in England.
"It is clear that they have not thought through the details of their policies and the implications for the whole of the UK, particularly where their UK-wide policies may require active co-operation from the devolved administrations," said Mr Andrews.
He added that on education the coalition presumed it could speak for the whole of the UK even though the Welsh government resisted higher education fees.
It also takes England as the "default model for service delivery" on welfare reform, he said.
"Under the coalition, it is English policy that is moving away from the other constituent nations of the UK."
Mr Andews added: "The coalition government's response reflects the timeless born-to-rule assumptions of the English public school system that trained administrators to run an empire - the imposition of an English exceptionalism that today threatens the unity of the United Kingdom itself."
He said there was a "stark choice" between a new vision for the UK, as the first minister has proposed, or the policy from Westminster "which seeks to build walls around the Tory heartland".
The Welsh secretary Cheryl Gillan said however that the UK government understood and respected devolution and continued to discuss all relevant matters with ministers in Cardiff Bay.
She added that the coalition is "ambitious for Wales".
"The fact is what Wales needs is not independence or isolation," she added.
"It needs the inter-dependence of the four nations to provide strength and security during difficult times.
"And it needs Governments in London and Cardiff working together to create the right conditions for economic growth, investment and jobs."
The Department for Education spokesman said it is down to the Welsh and Northern Irish administrations to decide how to run their education systems.
"We make no apology for breaking the constant treadmill of exams and retakes throughout students' GCSE courses - school shouldn't be a dreary trudge from one test to the other.
Sitting and passing modules has become the "be-all and end-all" instead of a "lasting understanding and love of a subject", the spokesperson added.
Related Internet Links
The BBC is not responsible for the content of external sites.