Gary Speed: Ex-team-mate Matt Jones' Snowdon tribute run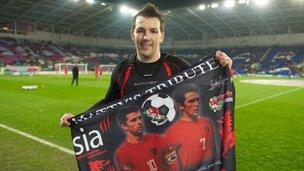 A former Wales footballer is running up and down the country's highest mountain as part of his fundraising in memory of his late team-mate Gary Speed.
Matt Jones, who has run two marathons and three half-marathons in a few weeks, says Tuesday's 1,085m (3,560ft) Snowdon challenge is his toughest yet.
He is dedicating a year of fundraising to the memory of the former Wales manager, who died aged 42 last year.
Speed's parents are due to be at the foot of Snowdon to lend their support.
Jones, whose football career was cut short by a back injury, will be attempting the feat with experienced Snowdon runner Andi Jones.
He told BBC Wales he was usually big on preparation but it had not been possible this time.
"When I've prepared for the London Marathon it's been fantastic.
"I've adapted every running style and I've listened to every word of advice," he said.
"But I've not been able to adapt as quickly to mountain running because obviously the London Marathon was only three weeks ago so I've had very little time to change my training methods so I haven't had too much experience.
"I've never walked up a mountain let alone run one, but this is part of the challenge."
The 10m (16km) run is expected to take just over two hours.
Jones, who played for Leeds United and Leicester City, has been fundraising as a way of helping the charities the former Wales manager supported.
He is looking to raise more than £10,000 for the Sir Bobby Robson Foundation and the John Hartson Foundation.
He is also raising cash for the Spinal Injuries Association.
Jones is planning a parachute jump, 24 hours on a cycling machine in a Swansea supermarket, two more half-marathons and a cycle ride from Llanelli to Newcastle.
The body of Speed, whose clubs included Leeds, Newcastle, Everton, Bolton and Sheffield United, was found hanged in the garage of his Chester home last November.
The coroner at his inquest said he could not be satisfied he had intended to kill himself, and returned a narrative verdict.