Welsh language not a health priority - British Medical Association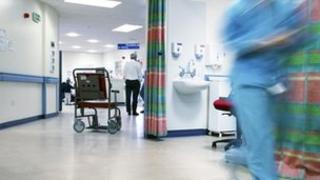 Use of the Welsh language should not be a priority when delivering healthcare, says the British Medical Association.
It said health money should not go into "promoting" the language, and targeting Welsh-speaking staff could hamper recruitment.
The statement came during a Welsh government consultation on use of the language in the NHS.
But the Welsh Language Society said not offering healthcare in Welsh was the same as any other bad service.
Speaking on behalf of the BMA, Dr Phil White told BBC Wales: "We feel that expenditure on the National Health Service should be just that - money spent on healthcare.
"Though we are in favour of the Welsh language and its use everywhere where it's appropriate, we think that using healthcare money to promote the language is not the best use of that money."
The consultation, More Than Just Words, proposes strengthening the use of the language in the NHS.
One suggestion within the consultation raises the prospect of targeting Welsh-speaking staff, but the BMA said this could hinder recruitment.
Dr White said that if adverts said Welsh was a necessity or a priority, it would deter many doctors from applying for jobs in north Wales in particular, and perhaps Wales in general.
"This would be an additional deterrent to people applying for jobs here in Wales which would have a very adverse effect on health care in Wales."
Cymdeithas yr Iaith (the Welsh Language Society) chair, Bethan Williams, said: "The BMA has to realise that not being able to express yourself and therefore potentially not receiving the appropriate treatment is the same as other examples of bad service - like not being able to have a hospital bed or a shortage of staff."
Others angered by the BMA's stance included the Union of Welsh Independent Churches, which said it campaigned for years for Welsh provision for people who are old, frail or ill.
The union said services through Welsh were a "human right" and urged the BMA to find ways of meeting the needs of its speakers.
The Welsh government said it recognised receiving healthcare in the language was important to people and it continues to welcome comments on its consultation.