Foster carer appeal over Wales shortage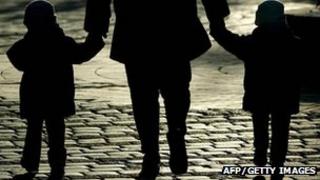 An appeal has been launched to find people willing to give children a home in a bid to deal with a "desperate shortage" of foster carers in Wales.
Around 550 carers are needed to ensure children who cannot live with their own families are given the care they need, charity Action for Children said.
It is using the Welsh Awareness Day for National Foster Care Fortnight on Thursday to highlight the problem.
One family who fostered dozens of children has spoken of its rewards.
Former Pontypool rugby player Steve Jones and his wife Liz stepped in to help youngsters who didn't have a home.
Their son Leighton, who watched the couple help some of the most vulnerable and neglected children in society, said fostering changed all their lives for the better.
"At times, it was heartbreaking to see where they came from but heart-warming to see what development the kids went through and changed to become better people," said Leighton, whose father Steve died suddenly at the age of 55 in 2007.
"Words cannot describe what kind of feeling it gives you because it is so rewarding to see them developing into young adults."
Mr Jones has also forged friendships with many of the children since their stay at his parents' home in Pontypool, Torfaen, and remains in touch with them even now.
"There are quire a few of them who ring up and keep in contact with me and the family always have plenty of time for every foster child who has ever come through our door and rings up again to have a chat," he added.
He said that fostering was a key part of of his father's life, adding: "He had just as much passion for fostering the kids as he did for rugby."
Action for Children Wales hopes the Jones' experience will inspire others to become foster carers.
It is holding a day of awareness and is encouraging members of the public in Cardiff's Queen's Arcade to help artist Scott Walker draw a giant montage to be displayed in Action For Children's head office later this month.
Their images will be combined with others from across the country to create one giant montage.
Jason Hughes, practice manager with Action for Children Wales, said: "Fostering is not an easy job but it is extremely rewarding. It is wonderful to be able to help turn a child's life around."