Railway crime falls by a quarter in Wales, British Transport Police say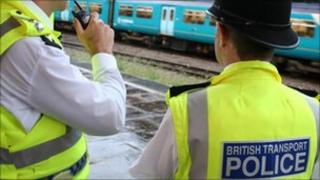 Crime on Wales' railways has fallen by a quarter over the past year, figures from British Transport Police show.
In total, 416 fewer offences were recorded between 1 April 2011 and 31 March 2012.
Violent crime fell by 24.7%, drugs offences were down 27.8% and vandalism by 44.4%. Theft from both people and the railways was down by a quarter.
Officers said the fall was down to them working with rail operators, who have also been investing in security.
They said the Welsh government was helping by working closely with the British Transport Police (BTP), helping to fund additional technology and increasing officer visibility.
Railway crime in Wales has fallen faster than the British average, which shows a drop of 9.1% - the eighth successive year crime has gone down.
Despite this, the number of offences for trespassing, stone throwing, obstruction and line side vandalism, remained consistent in Wales, with 69 offences recorded in both 2010/11 and 2011/12.
There were also an additional 12 sexual offences, rising from 14 to 26.
'Improving CCTV'
Ch Insp Sandra England, BTP's sector commander for Wales, said overall it had been a "very successful year" for BTP and the rail industry.
"This sustained downward trend in crime is a tribute to the excellent partnerships we have with rail operators, who continue to invest in the security of their customers and staff," she said.
"It also reflects the hard work of BTP staff across Wales at a time when we are demanding more and more from them as budgets decline."
Michael Roberts, chief executive of the Association of Train Operating Companies, said the figures were "good news" for passengers.
"Train companies take the safety and security of their passengers and staff extremely seriously which is why they spend millions of pounds installing more helps points at stations, providing funding for British Transport Police and improving CCTV on trains," he said.
"These figures show that this hard work is paying off, but train companies are not complacent and will continue to work with British Transport Police and other industry organisations to ensure that our railways remain as safe as they possibly can be for passengers and staff."
Crime on the railways over the past five years has fallen by over 30%.