Cardiff airport needs to focus on business and tourism says expert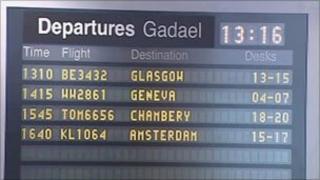 An aviation industry expert says there needs to be clear focus on how Cardiff airport operates after a turbulent week which saw its chief executive leave.
First Minister Carwyn Jones has also called on the owners to invest in its future or put it up for sale.
He criticised Abertis for delays in a £26m investment and said the airport gives a bad impression of Wales.
Transport expert Martin Evans says the owners and the government must look at a strategy.
The airport has lost nearly a 800,000 passengers since its peak 2007.
Abertis says it has no plans to sell but would be open to offers.
"We need to ask fundamental questions of what do we want from our airport, and once that is decided, we've all got to be told so we know what to expect," said Mr Evans, a research fellow at the University of Glamorgan's business school and a director at the industry consultant, Aviation Analysis.
"We could go back over years and years of poor strategic choices but that won't really help us where we are in the current situation.
"There is a very big competitor over the border in England, who has got the two biggest low-cost airlines with Ryanair and easyJet, and the airport cannot compete in that market any more."
Speaking on BBC Wales' Week In Week Out programme, Carwyn Jones called on the owners of Cardiff Airport to invest in its future or put it up for sale.
His comments come after Mr Jones said he had been in talks with potential buyers interested in a public-private partnership.
The Welsh government has offered to fund £5m towards an investment programme at the airport.
The airport has also announced the appointment of a new operations director, following the departure of its managing director.
Former RAF group captain Debra Barber said she was "delighted" to be joining the airport's management team "at this important time in its history".
Tourism destination
But Mr Evans, who has given evidence to both assembly and parliamentary committees on the Welsh aviation industry, said there needed to be a focus on two key issues.
"We need strategic connections for business, so that business finds Wales a good location to come here, with good communications," he said.
"We also need good inbound routes bringing in passengers to us.
"Cardiff is a very good tourist destination, but people don't fly here - they could fly here and provide a lot more employment for our restaurants and hotels that are already established.
"You can't have a route network that is going to go head-to-head with Bristol airport now, because they are just going to beat us every time."
Responding to the departure of the airport's managing director, a Welsh government spokesperson said it was an internal matter for Abertis.
"However, we have consistently made our position on Cardiff Airport clear," added the spokesperson.
"We want to see it grow and become world class. Nobody is satisfied with the current situation."