Welsh language plan for services unveiled by commissioner Meri Huws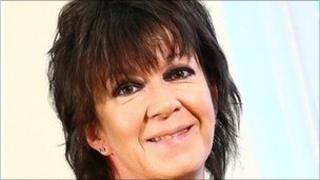 Welsh speakers would be able to access fully bilingual public services if new plans outlined for the language are given the go-ahead.
The Welsh language commissioner has launched a consultation into standards which public sector bodies and some companies would have to follow.
It means a Welsh speaker could expect to receive correspondence and phone calls in Welsh, along with accessing Welsh-speaking doctors and carers.
Firms not complying would be fined.
Commissioner Meri Huws admitted the rules might be "challenging" for some organisations but denied they would add another layer of red tape.
A Welsh Language Measure, which came into force last year, set a duty on public organisations to treat the Welsh language no less favourably than English.
Ms Huws, whose post was created under the measure, has now set out what exactly this could mean for them.
She said that public sector organisations, as well as private companies and voluntary sector organisations which receive more than £400,000 in public money, would have to provide fully bilingual services.
These would include councils, hospitals, courts, utility companies, telecommunication firms, social housing providers and bus and rail companies.
The standards mean organisations and companies would have to ensure that they employ enough Welsh speakers.
The commissioner will have the power to investigate those who do not comply and they could face a fine of £5,000 if they do not.
Ms Huws admitted the standards would be "challenging" for some organisations but insisted they were important.
"I would challenge the issue of it being a thick layer of bureaucracy - this is about securing services and securing ways of operating that are modern and relevant to people in Wales at the beginning of the 21st Century," she said.
"This is about delivering quality services in Wales, not about bureaucracy."
Robert Lloyd Griffiths, director of the Institute of Directors in Wales, said businesses were keen to engage with the commissioner over the issue.
"Over the consultation period, we will be happy to liaise with her and her team as to what is right for business. The key thing in this I think is engagement," he said.
"I think if you are able to offer Welsh language within what you're offering in goods or services then those who speak the language recognise that and it's a positive.
"Some of the major utilities already do that - BT already do that."
He added: "There are Welsh language opportunities for businesses and I think that's good because there are people in Wales who speak Welsh and want to have their language put forward who will benefit from that."
However, on Wednesday the British Medical Association said the use of the Welsh language should not be a priority when delivering healthcare.
It said health money should not go into "promoting" the language, and targeting Welsh-speaking staff could hamper recruitment.
The consultation period runs until 11 August and Ms Huws said it was essential to understand what people's needs were in terms of accessing Welsh language services.
It is understood that it would be at least 2013 before any enforcement of the standards would come into effect.