Dancing with the Stars: Katherine Jenkins in TV final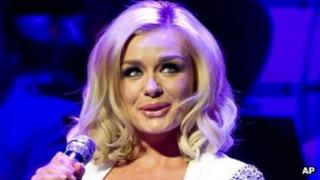 Katherine Jenkins is preparing for the final of the US version of Strictly Come Dancing after achieving a perfect score.
The 31-year-old Welsh mezzo soprano scored the top mark of 60 for her two dances on Monday's penultimate episode of Dancing with the Stars.
She will appear in the final on Tuesday with actor William Levy and football player Donald Driver.
Judges' scores are combined with viewer votes to determine the show's winner.
Jenkins will face competition from her two fellow finalists, who each scored 59 from the judges for their two dances on Monday.
The singer, who is originally from Neath, was unveiled as a contestant on the ABC show in February, competing against celebrities including former tennis player Martina Navratilova, actress Melissa Gilbert and soul star Gladys Knight.
At the time, Dr Simon Warner, a lecturer in popular music studies at the University of Leeds, said Jenkins might be trying to tap into the Adele factor in the US.
Adele's album 21 was the biggest-selling in the US last year and was followed by success at the Grammy and Brit awards.
"It sounds like perfect platform for a young woman with talent, who is little-known in the United States, to reach the multi-millions who watch Dancing With The Stars," said Dr Warner.
Previous champions of the show have included Dirty Dancing actress Jennifer Grey, who became a guest judge on Strictly last year, and former Pussycat Dolls singer Nicole Scherzinger.