Little Terns nesting near Prestatyn are protected by an electric fence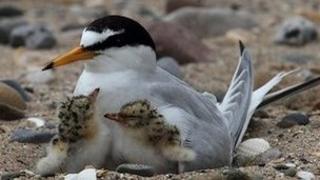 A rare colony of birds which make the Welsh coastline their home for three months a year are being protected by an electrified fence.
Denbighshire Council erected the one and a half mile fence to help a colony of Little Terns who fly into Gronant, Prestatyn from west Africa every may.
The only Little Tern colony in Wales, the birds breed on the shore before migrating south in September.
The fence becomes electrified at night to protect the birds from foxes.
In order to help the seabirds fledge their young and increase the size of the colony, Denbighshire Council erected the protective fence with the help of volunteers.
The birds, which feed on Sand Eeels, make the 4,000 mile trip from west Africa in order to nest on the shingle ridge, amongst the sand dunes in Gronant.
'Last colony'
The weather, the height of tides and levels of human disturbance all have an impact on whether the birds enjoy a successful breeding season.
Wardens patrol the area by day in order to protect the birds and their offspring from the threat of predators such as foxes and Kestrels.
Countryside Officer Garry Davies described the work as "vitally important".
"It's the last colony in Wales so it's vitally important and I think we need to make an effort really," said Mr Davies.
"Inevitably you're going to have some losses in helping the birds fledge, but our role is to have as few as possible. They say not to interfere with nature but we're not actively interfering, we're just lending a hand.
"What we'd like to do is develop the colony so the number of birds fledging there means the area is saturated and then then some of the birds would be forced to nest elsewhere. At the moment, we've got all our eggs in one basket."
Holiday park operator Haven helped fund the building of the fence, which safeguards other forms of wildlife including birds such as the Little Ringed Plover and the Oystercatcher according to Mr Davies.