EuroMillions perseverance pays for £1m winner from Merthyr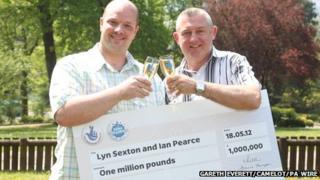 Perseverance paid off for a lottery player who did not have enough money to buy a ticket - he eventually won the £1m jackpot.
Lyn Sexton, 41, from Merthyr Tydfil, had to go to a cash machine and queue again after he found he did not have enough cash.
But he went on to buy what turned out to be a £1m winner in the special EuroMillions Millionaire Raffle.
Mr Sexton and his civil partner Ian Pearce plan to use the money to travel.
The physiotherapy technician was shopping at his local supermarket when he decided to buy a ticket on a whim.
"We don't play every week, but I often buy a ticket if there is a big rollover," said Mr Sexton.
"I was buying a ticket for Tuesday night's EuroMillions draw, and the cashier mentioned there was also a special draw taking place on Friday, so I decided to buy an extra ticket.
"I realised I didn't have enough cash on me, so went outside to the cashpoint and returned to the back of the queue. It's lucky that I persevered, as that extra ticket turned out to be a winner."
The duo discovered they had won when they returned from a weekend break in west Wales on Sunday and checked their ticket online.
'Sense of community'
"We took the ticket back to Tesco to get it confirmed, and then signed and dated it, and kept it in a secret place until we could claim the prize officially with Camelot," Mr Sexton said.
He added: "It's an overwhelming feeling. Ian and I already feel very lucky, as we have a nice lifestyle and we've had the chance to travel the world together.
"We are both going to go back to work and take a year to decide exactly what we want to do with the money.
"We'll definitely be taking both sets of families on a fabulous holiday - probably to the Caribbean. We would also like to do a really special world tour to celebrate Ian's 50th birthday in five years time."
He went on: "Ian has recently bought a new car and I think I'd like to treat myself to a Land Rover En Vogue - although my nephews have already told me I should get an Aston Martin.
"We already had plans to extend our house and put in a swimming pool - but we will definitely be staying in Merthyr. We are both from the valleys and we find Merthyr a great place to live, with a lovely sense of community."