Olympic torch: Relay is an 'experience of a lifetime'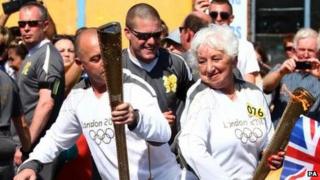 Thousands of people brought towns to a standstill to welcome the Olympic flame to Wales.
Despite the soaring temperatures, crowds started gathering early get a prime spot along the route from Monmouth to Blaenavon.
Bunting hung from buildings and many waved Welsh and Union Jack flags for the occasion.
The first runner in Wales, Gareth John told BBC Wales: "It was an experience of a lifetime.
"There was some sense of trepidation before doing it but there were lots of people out there cheering you on. It was excellent."
Monmouth had been warming up in preparation for the torch's arrival since early morning.
Crowds, including school children who had dressed up or wore special uniforms for the day, were treated to street entertainment while they waited for the procession to arrive.
The Third Royal Welsh band was first to play with singers from Chepstow and Usk following.
Traditional and contemporary dancers from the Welsh-English border region, the Widders were next through before members from the relay got the crowd going.
Many of the shops were empty so workers watched from doorways - some selling or giving out cakes.
Shoe shop owner Andrew Hurley said: "I think this brings everyone together and is so in keeping with the town."
Finally, the wait was over and the torch arrived in Monmouth at 11:04 BST.
Row Poulton, from Monmouth, said: "I'm here to be part of the spirit of it.
"I'm really interested in sport and it's an ideal time to come and show your support."
Julie Lewis' son Sean Lewis, from Llanbradach, Caerphilly, sat his A Level physics exam early this morning just so he could carry the flame in Abergavenny.
Mrs Lewis said the exam "went well".
Mark Probert watched with his family.
He said: "It's a lovely event, the torch was quite a spectacle to see. It's something the kids will always remember.
"It's nice that it came through Monmouth because it's such a historic town."
First Minister Carwyn Jones attended the relay, as did Monmouth deputy mayor Jeana Hall who said the event had "brought everyone together".
At 11.29 BST the torch passed through Raglan before arriving in Abergavenny at 11.48 BST.
From Abergavenny, the relay travelled to Brynmawr before stopping for lunch at Blaenavon.
Crowds got into the spirit, including Bev and Gill Harris who hung out bunting in their front garden.
The first torch bearer out of Blaenavon was Ellie Coster, 16, who was nominated for helping to look after her disabled brother.
She said: "I'm really excited and pretty nervous. My school friends and teachers are here."
Ellie passed the torch to bearer Anne Shingler, 42, who has terminal cancer. She will carry the torch from Big Pit.
Ms Shingler said she was chosen after becoming involved with Breast Cancer Care.
"It's unbelievable. I've got a lot of friends coming to watch and a lot from Breast Cancer Care," she said.
Eric Whitlock, 51, from New Inn in Pontypool, is another bearer. He has worked with St John and teaches first aid in schools.
"I'm very excited and exhilarated. I look at the work the St John guys do and there's a lot of people who do more than me."
PC Darren Laurie from the Metropolitan Police is one of 30 members of the torch security team. He said around 700 officers had applied for the 30 positions available.
He said: "It's been very good, I've been busy but in a good way.
"We've been surprised by the size of the crowds. I've been following it through Devon and Cornwall - I ran about 20 miles the other day."
A spokesperson for the London Organising Committee of the Olympic Games (Locog) was "thrilled" with the reception from Wales.
"We have already seen thousands of people line the streets to welcome the inspirational torch bearers who are carrying the flame. We are very much looking forward to the evening celebration in Cardiff tonight," they added.
Meanwhile, the hot weather prompted Public Health Wales to issue a warning to people along the route.
Director Dr Marion Lyons said: "We also know that the weather is forecast to be very hot, and we want people to be careful that they don't ruin their weekend by becoming unwell as a result of the outside temperatures."
PHW advised people to apply sunscreen, drink water regularly, wear loose-fitting clothing and a hat.
Former GB Olympic 400m athlete Iwan Thomas is at Coopers Field in Cardiff, where thousands are gathering to welcome the relay tonight.
"I think Olympic fever is really taking over the whole country," he told BBC Wales.
"I know there was a bit of anti-torch feeling at the start because it's a London event. But that's all gone and here in Cardiff you know you have the biggest sports fans."
He added: It's a big honour to represent your country at the Olympics and wish I was 10 years younger."
The first of the 16,000-capacity crowd were gathering for the ticketed event, close to Cardiff Castle, which opened with music.
Many were able to soak up the sunshine while they waited for the torch to arrive.
Wesley Collier from Caerphilly came with his partner Shelly Jones and their two daughters Elisha and Ava.
He said: "The main reason for being here is the celebration and to see the Olympic torch."
Paula Mickley travelled from Doncaster with husband Graham.
"We just wanted to part of it and experience the flame coming through," she said.
"We've never been to Cardiff before and heard it's really nice."
Father and daughter Samantha and Andy Hunt, from Newport, were both torchbearers when the flame reached Cardiff.
In June last year Samantha was a contestant on TV game show Deal or No Deal where she donated half of the £100,000 she won to the charity she had been working with.
She said: "We did it our leg by St Mellons. My father passed the flame to me.
"We both got to do it together, which was fab."
Mr Hunt, 47, said: "It's lovely to see people smiling. Were not always a happy lot at the moment but it's lovely to see the nice side of everybody."
Caerphilly-act Kids In Glass Houses took to the stage on Friday afternoon with Brit award winner Emeli Sande due later.
The torch arrived at around 19:17 BST with Melanie Stephenson lighting the cauldron.